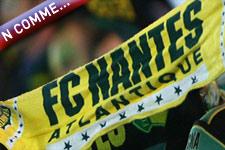 The summer break will be punctuated by one letter and one word per day. Today's instalment is brought to you by… the letter N.. for Nantes.
N for Nantes. Since its promotion into D1 in 1963-64, FCNA had never been back to an inferior division. 44 seasons and 1,636 matches among the elite of French football! 8 French league titles, 9 other top-3 finishes, 7 of which were 2nd place. 37 top-10 finishes in total. This club is part of French footballing history. It was founded on April 21, 1943. Apart from its brilliant results, the club was always known for the quality of its team and the beauty of its play… the famous Nantes style created by José Arribas.

Some great managers have worked their, including José Arribas and Jean-Claude Suaudeau. Monsieur Fonteneau stands out among the club's illustrious presidents.

As for their players, how can you forget men like Michel, Gondet, Simon, Deschamps, Desailly, Karembeu, Loko, Halilhodzic, Amisse, Bossis, Burruchaga, Landreau, Makélélé, N'Doram, Blanchet, Muller, Carrière… and most recently, of course, Fabien Barthez.

Simon was D1 top scorer in 64-65 (24 goals), Gondet in 65-66 (36 goals), Halilhodzic in 82-83 (27 goals) and 84-85 (28 goals), Ouédec en 93-94 (20 goals), Loko en 94-95 (22 goals).

On top of their 8 French titles, the Canaris have won 3 Coupes de France and 2 Trophées des Champions. FCNA holds the record for matches unbeaten at home: 92 matches from May 15 1976 to April 7 1981; most wins in a season (26); the longest unbeaten streak in a season (32 matches in 94-95); the smallest number of losses in a league season (1 in 94-95)…

The Nantais lost the 1973 Coupe de France final 2-1 to Lyon.

Many former Nantes players have worn the OL shirt, like Loko, Chanelet, Carrière, Pedros, Toulalan, Caveglia… or even on the bench, like Paul Le Guen.

This N for Nantes can also be N for nostalgia, as season 2007-08 will kick off without the Canaris.