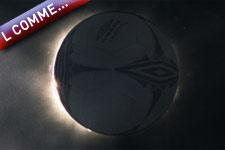 The summer break will be punctuated by one letter and one word per day. Today's instalment is brought to you by… the letter L… for L1, Lens…
Ligue 1, the elite of French football in which 20 clubs vie for supremacy and the title of Champions of France. L1 has just changed its trophy, now named "The Hexagoal".
L for the Lions of the Pinder Circus, who were on hand to help celebrate Lyon's 6th successive title after the match against Lens.
Another L, that of Lens. The club from Pas de Calais went down twice to Lyon this season. In the first match, Lens trailed Lyon by 14 points on the table and were submerged by the OL tidal wave, going down 0-4 at their home, the Stade Bollaert. In the return match, at Gerland, Lens once again submitted to the power of Lyon. With 16 shots on goal as opposed to just 3 for Francis Gillot's men, OL also hit the bar twice. Final score: OL 3-0 Lens. The "Sang et Ors" finished the league in 5th place. Result: no Champions League, no UEFA Cup, just the Intertoto Cup. To cap it all off, the team lost their manager, Francis Gillot, who resigned on Tuesday May 28, bitterly disappointed.

Then follows Lille, the second club engaged in the Champions League. The Nordistes were knocked out in the last 16 by Manchester United. Lille… OL's bête noir? This year, OL settled old scores. A 4-1 win at Gerland was followed by a 1-2 win for OL in the North. It had been 5 years since the Lyonnais had snagged a victory on the homeland of Pierre Mauroy and Martine Aubry. Lille, one of the big disappointments of the season. Indeed, the Lillois won't be in the Champions League this year, having finished 10th in Ligue 1.

And Le Mans? In 3 meetings this season, 2 in the league and 1 in the Coupe de la Ligue semi-final, OL won every time, but never by more than 1 goal.

"Lyonnais", "proud to be Lyonnais", "Lyonnais to the core"… the slogans vaunting OL and its City of Light are too numerous to include in their entirety…
Lyon would have loved to win the Champions League this season, as any team that enters the prestigious competition would love to do. But they need to be patient.