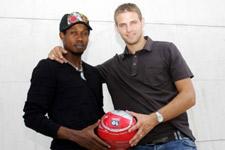 Lillois Abdulkader Keita and Mathieu Bodmer have both signed with Olympique Lyonnais for a period of 4 years at total cost of €24.5m. Their arrival was made official this morning in the presence of Jean-Michel Aulas and Bernard Lacombe.
Bernard Lacombe:
One thing, Kader was Gérard Houllier's transfer priority, but the deal just couldn't happen at the time. This season, thanks to the financial effort the President was prepared to make for the player, Kader will be a very big reinforcement for the club. Mathieu Bodmer? He and Kader will both bring freshness to the team as well as their strong ambition. You have to be ambitious to play at Lille, and even more so here at OL, as the expectations are that much greater. I hope they will help us to win a 7th title. Between them they scored 17 goals last season…
As far as their integration into the team is concerned, that's up to Alain Perrin. He has already spoken to the on the phone. Perhaps we can expect a new formation next season. With an emphasis on 'perhaps', because we could easily still play the 4-3-3 we've been using for years now. Alain Perrin is also interested in a 4-4-2 system. Kader can play on the right or in the middle. Mathieu can play like Tiago, or Juninho. They have talked a lot with Alain and I think things will take shape in the training camp at Tignes, but also in Korea, as the squad gets some matches under its belt.

Mathieu Bodmer:
It's a great source of pride to come to Lyon. After Lille I wanted to find a big club, so I'm happy to sign here at OL and to be able to wear the shirt. It's a new adventure, the beginning of a new adventure that will bring me many things, I hope. Competition? I came here to start from scratch. A new region, a new club, new team-mates… I've come to a team where losing isn't allowed. There is a lot to take into consideration but I'm not scared. On the contrary, it'll spur me on. I've left Lille after 4 good seasons [IMG42164#R] to go in search of new goals. My aim is to win a starting place in the team, which will be the ideal launching pad for a place in the France team. I hope to follow the same path that many players have walked here at Lyon… like Jérémy Toulalan, who is now a first-team regular for France. His is a good example.

Kader Keita:
We worked really hard at Lille and now we're reaping the rewards of our efforts by signing here at OL. We've been in discussions for more than a year now so I'm really happy the transfer has gone through. I wanted to stay in France because I love this league. Now I have new goals, in the league as well as the Champions League.
The club's record signing? That doesn't place me under any particular pressure. All that is between the clubs, it doesn't really concern me. I do my job on the pitch and that's where it ends.