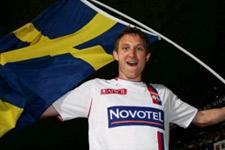 The summer break will be punctuated by one letter and one word per day. Today's instalment is brought to you by… the letter K… for know-how!
K, the 11th letter of the alphabet, and in alphabetical order, it's François Clerc who takes this place in the OL squad, after Abidal, Baros, Ben Arfa, Benhamida, Benzema, Berthod, Bettiol, Beynié, Bouchard et Caçapa. The youngster from Bresse is a true lion – he plays on the right for France, played 20 games for Lyon in L1, 2 in the Coupe de France, 4 in the Coupe de la Ligue and who played 459 minutes in the Champions League. He also scored an amazing goal this season… an awesome volley on the turn from a Kim Källström corner. Tiago and Juninho were absent when Clerc scored his first goal for the senior team on January 20 against Laon. It was just a shame there weren't many Reims for the last-32 fixture…

K is also the letter on cars from Cambodia, the Khmer empire. The primary industry there is clothing, so… K for Umbro, long-standing official partner (since 2002) of OL.
K for Kiev, the Ukrainian capital, where OL went and scored 3 goals in the Champions League. On October 17 2006, Juninho opened the scoring with a free kick and then scored his first-ever goal at OL. Hang on… K for Kim Källström, the Swede. The 2-time Swedish champion (2003 and 2004) will be 27 on August 24. He has played 46 matches for Lyon, scored 4 goals and received 4 yellow cards this season.