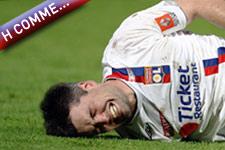 The summer break will be punctuated by one letter and one word per day. Today's instalment is brought to you by… the letter H for… hospital
OL certainly wasn't spared this season from various setbacks. And at the top of the list, hospital visits… even last year, the French champions had to deal with several long-term injuries.
Notable was the case of Eric Abidal, seriously injured in the Peace Cup and then again with the France team. Then there was Claudio Caçapa, Sylvain Monsoreau and even Jérémy Berthod (lots of injured defenders!), who came close on many occasions to making his comeback. This year every line of the Lyon squad was affected; in attack: Karim Benzema missed half the season's matches, thanks to, notably, a thigh injured on 3 occasions (2 times against Valenciennes, 1 time in training)…Fred, Sylvain Wiltord, Sidney Govou and Hatem Ben Arfa round out the list of injuries to OL's front line, each one of which was out for several days if not weeks.

In the middle of the park, Alou Diarra sustained the biggest injury, tearing a thigh muscle against Le Mans in a Coupe de la Ligue semi-final. The OL number 15 took the field again but was forced limp off 10 minutes later. Result: 2 months out of the game… Tiago, Jérémy Toulalan and Kim Källström also suffered recurring niggles of varying severity throughout the season. Finally, Claudio Caçapa and, more surprisingly, Grégory Coupet, were forced to miss several matches; the OL keeper falling victim to a domestic accident that made him miss the infamous derby.

On top of this, there were absences through suspensions (Baros, Ben Arfa Cris, Juninho and Toulalan), others linked to World Cup appearances (12 Lyonnais returned to training later than their colleagues) and even some due to personal reasons such as births or deaths in the family… A lot of missed game time! And in these cases, it's often the youngsters who are given a chance to make the most of their senior colleagues' absence… But even in that domain, there were some considerable absences. Grégory Bettiol (knee injury at the end of the season), Loïc Rémy (suspended) and Johan Hartock (wrist injury) all missed game time.

More unusually though, on the bench, 2 men had to miss games through suspension: Patrice Bergues and Joël Bats (both suspended for 2 matches).