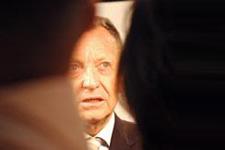 "It's a great moment for me, but also for the club and Bernard (Lacombe), to announce that Grégory Coupet has signed on for another 3 years. It's an important moment for the club".
When announcing his international goalkeeper's contract extension, Jean-Michel Aulas made no secret of his "satisfaction at having been able to convince him". "The first discussions took place in Rome", he revealed. "We made a huge effort, but he deserved every bit of it. (…) The relationship isn't just professional. There is more (…) Greg (Coupet) is the best keeper in France and also maybe the world, and he also has a way of helping the club to keep developing. The discussions allowed us to delve as deeply as possible into our mutual best interests. It's an understanding that has developed over many years".

The OL president also mentioned that, thanks to this extension, the OL shotstopper could will write a new page in the club's record books. "It's possible that he could catch Serge Chiesa, who played 541 matches for OL (Grégory Coupet has played 489)", he noted. "It's a goal we've given him. The other objective: the Champions League. He has played 92 of OL's 98 European matches. He could hit the 100 mark this season. Very few players have such experience at that level".

President Jean Michel Aulas noted that Rémy Vercoutre has indicated his desire to remain at OL. "I told him there was no problem with changing his mind and that he was welcome to stay. That's one element of the fraternity and the team spirit here, which shows that OL is one big family".
The wishes of both keepers to remain at OL prompted the President to consider pushing back Rémy Riou's return to Lyon. "We want to extend his contract while keeping him on loan," he said.