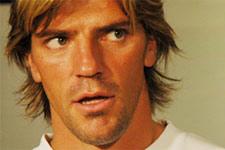 Grégory Coupet has prolonged his contract with OL in a 3-year deal that will keep him at the club until 2010. Accompanied by Jean-Michel Aulas and Bernard Lacombe, the international keeper discussed the reasons behind his choice to stay on.
Grégory Coupet:

What have you decided as far as your future is concerned ?
I've extended for 3 years. I'll be the club's youngest new recruit (laughter). It was long and hard. The decision wasn't straightforward. For the first time I was worried about whether I would be playing for 1 year too many or whether I was missing out on an adventure overseas. I thought that maybe the best solution would be to go out while I'm still at the top. This season was something special; when you love your club, it's very moving. The words of Bernard Lacombe and President Jean-Michel Aulas touched me. We found a solid common ground and it's a great pleasure to stay on here at home. But it's not an old people's home! It's my second-last contract. It's anything but a lack of ambition. I love this club deeply and I'm proud to be able to keep living the dream here. I'm happy to still be working with Joël Bats and we both have 3 years left on our contracts now. That has been a determining factor.

Did the reaction of the fans at the Sonny Anderson testimonial influence your decision?
No. My decision had already been made but that confirmed my feelings. The President's desire to keep me and keep the team developing touched me. I also spoke to the manager for a long time on the phone. We spoke openly and it went well. I can't wait for the new adventure to begin.

How do you feel physically?
At 34 years, I've never felt better. I will need to learn how to pace myself a bit more though. With Jo (Bats) I share a commitment of giving 100%. I 'm not the kind to pull back. My pleasure is pain and I'm always pushing the limits. Dino Zoff was a champion at 40 years of age. Why not push it further and go for the record books? I'm breaking records at the club. Why not in the wider footballing world?

What put doubts in your mind?
The end of the season. To have to excuse ourselves for being "just" champions was a catastrophe. It was madness. It was tough to get through.

Have you felt under-appreciated within the club?
Not at all. I spoke to the President in simple terms. I told him we were both at a crossroads. I said to him, "so what do we do about it now?" The discussions were open and honest and in the interests of both parties.

Will you ask for the captain's armband?
Until now, it's been in very capable hands. In my position, it's not necessary to have the armband. But in terms of my experience and my natural authority, I'm a legitimate candidate for the captaincy. People listen to me and there are no problems. I don't need it in terms of my value being recognised. I know who I am and what I'm worth.

Don't you think that next season will necessarily be the toughest?
No. It'll be tough but it always has been. The ambition remains the same. There have been quite a few changes in terms of managers. Lots of teams have brought in new attackers. There will be some surprises next season. Our squad will be still be very competitive. It'll be an exciting season; staying on top of the game will be the best of challenges.

Do you have any demands to make of Rémy Vercoutre ?
No. Just that he maintain his motivation. Respecting my replacements is all about imposing on them the same competition that is imposed on me. I rely on them to stay highly motivated. I need it. It's up to me to prove I'm the number one.