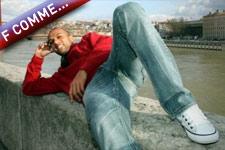 The summer break will be punctuated by one letter and one word per day. Today's instalment is brought to you by… the letter F... for Fabio Santos.
Brazilian midfielder Fabio Dos Santos Barbosa, who arrived on January 29 2007, surprised all French football observers when he signed for Olympique Lyonnais. He had been followed by Bernard Lacombe and his assistant Marcelo for several months and even several years (OL had almost signed him in 2005 to replace Michael Essien) but it was as something of an unknown in the eyes of the footballing public that he arrived in Lyon. On the other hand, who signed for 3 and a half years, the Brazilian noted he already knew several of Lyon's Brazilians, notably Fred, with whom he had played at Cruzeiro.

And it was against Lorient, just a fortnight after his arrival, that the native of Campina Grande, in the state of Paraíba, made his first appearance in the shirt of the French champions. Not a huge match, but one that gave Santos a chance to prove his qualities. Bernard Lacombe described him as a mix of "a more powerful Jean Tigana and a more explosive Djila Diarra". These comparisons were proven not to be far from the truth. He can kick the ball with any part of either foot and is strong in the air. Level-headed and solid the former National Madeira (Portugal) player made a few appearances in February in the absence of Alou Diarra. Unfortunately Fabio didn't feature for OL between the visit of Sochaux and trip to Auxerre, meaning 2 months without playing.

All told, he accrued 420 minutes of game time L1 this season. Now adapted to the French climate as well as the league, there is no doubt we'll be seeing more of OL's number 26 in 2007-08.