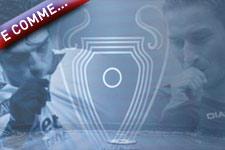 The summer break will be punctuated by one letter and one word per day. Today's instalment is brought to you by… the letter E... for Europe.
This year's draw offered OL the ultimate ( Real Madrid) and a taste of the exotic (Dynamo Kiev and Steaua Bucharest). It's true that with 9 European crowns, "Djila" Diarra's Real is still the best on the continent. As for Kiev and Bucharest, Gérard Houllier and his men were faced with many unknowns and just one certitude: football from Eastern Europe remains tough to tackle.

Despite these small hurdles, OL had an impressive group phase. With 4 wins (2 against Kiev, 1 in Bucharest and 1 at Gerland against Madrid) and 2 draws (1 at the Santiago Bernabeu and 1 against Bucharest) for a total of 14 points, OL topped Group E with a 3-point lead over Real Madrid. An exceptional stat sheet, although slightly less impressive than the season before (in 2—05-06 OL finished the group phase with 16 points), but strong enough to give OL the title of "Champions League Group Phase Champions". At the end of December, OL was a length in front of prestigious clubs like Chelsea, Valencia and Liverpool (these 3 teams all had 13 points at the end of the group phase). A fine title to have, but in the end a frustrating one.

Frustrating because of the last-16 fixture with Philippe Mexes' AS Roma. OL seemed well placed after the first leg, which had ended 0-0 at the Stadio Olimpico after an insipid performance from the Romans. But that shy and Totti-dependant outfit changed its colours for the trip to Lyon, and it was a formidable machine that turned up at Gerland for the second leg.
With a defensive solidity approaching the impermeable and an inspired attacking performance, AS Roma played the perfect match. After contesting the quarter-finals 3 years running, an impotent Lyon bowed out of the Champions League in the last 16. On the night, the wolf was stronger than the lion.