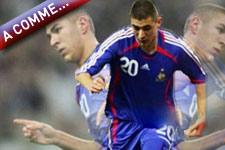 The summer break will be punctuated by one letter and one word per day. Today's instalment is brought to you by… the letter A… like A international.
OL's domination of the French domestic scene has led to its also dominating the France A team, with 10 OL players making Raymond Domenech's selection this year.

Les Bleus played 10 matches, 4 of which were friendlies. Gregory Coupet and Eric Abidal played 9 matches. Both of them missed the France-Faroe Islands Euro 2008 qualifier on October 11. Unlike Greg, Eric was once, and once only, a substitute – the OL defender came on for Philippe Mexes in the friendly match against Austria on March 28. Florent Malouda was the most-capped Olympien this season, with 10 selections in 10 matches. And he started every one except for the friendly against Austria, when he came on to replace Samir Nasri.
Sylvain Wiltord (5 caps) hasn't played for France since the match against Greece on November 15, the only game he started for France this season. In the 4 other matches he replaced Malouda, Saha, Govou and Ribéry.
Sidney Govou won 4 caps. He replaced Ribéry and Malouda and was replaced by Wiltord and Cissé. Unlike Govou, François Clerc played his 5th international this week against the Ukraine. It was his first start for the France team in an official match after making his Les Bleus debut on October 11 against the Faroe Islands. He replaced Willy Sagnol 3 times before finally making the starting 11 on March 28 and then against the Ukraine.
Jérémy Toulalan has only appeared 3 times since October 11 but the most surprising thing is that Raymond Domenech has used him in 3 Euro 2008 qualifiers but never in friendly matches. Jérémy Toulalan has started each of these matches and played them all in their entirety.
Alou Diarra, Sébastien Squillaci and Karim Benzema have all made just one appearance. Of the three Lyonnais, only Toto started a match, and he played all 90 minutes. They haven't played at the same time, with Raymond Domenech using them in separate friendly matches: Greece on November 15 (Diarra), Argentina in February (Squillaci) and Austria in March (Benzema).