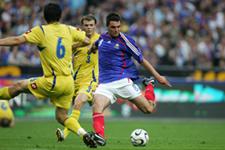 11 Lyonnais played with their national teams, including 5 who started for France against the Ukraine. Tiago's Portugal won an important victory in Brussels. Loïc Rémy scored again for the U-20 side.
[IMG41392#L]Thanks to goals from Ribéry and Anelka, the France team beat the Ukraine 2-0 and went to the top of the group B table, 2 points in front of Italy, which beat the Faroe Islands 2-1.

The 5 Lyonnais who started (Grégory Coupet, Eric Abidal, François Clerc, Jérémy Toulalan and Florent Malouda) played the whole match.
Jérémy Toulalan troubled Shovkovsky on two occasions but was off target (8') and then fired at the Ukraine keeper (54'). François Clerc was a hair's breadth from heading Samir Nasri's free kick home (48').
Florent Malouda playeda big part n the 2nd goal, releasing Nicolas Anelka from deep (70').
On Wednesday in Auxerre, Raymond Domenech's men will host Georgia.

[IMG41393#L]In group A, Portugal and Tiago won a precious 2-1 victory in Belgium with goals from Nani and Postiga. The OL midfielder played the entire match.
Felipe Scolari's men remain in 2nd place on the group A table, 5 points behind Poland (which has played a match fewer), which won 3-1 in Azerbaijan.

[IMG41962#L]In group D, the Czech Republic drew 0-0 with Wales in Cardiff.
Milan Baros started but was replaced at half time by Marek Kulic. The Czechs will be left ruing their inability to score, as Germany, which won 6-0 in San Marino, went 2 points ahead of them on the table.

[IMG41391#L]In Copenhagen, Swede Kim Källström shared the points with Denmark (3-3). Elmander scored a double for the Swedes.

[IMG41390#L]At the Parc Saint-Jacques, Switzerland drew2 1-1 with Agrentina in a friendly match. Patrick Müller played the entire match in central defence, drawing the praise of the Swiss Football Federation on its website: "The Lyon player was perfect n the centre of defence. At 30 years of age, and playing rarely for his club, he is truly indispensable."

[IMG41392#L]Yesterday in Brest, the France U-21 side conceded a 1-1 draw with Romania in its first qualifier for the European U-21 Championships in 2009. Hatem Ben Arfa came on for Payet in the 50th minute.

[IMG41392#L]Two days after beating the Ivory Coast, the France U-20 side qualified for the semi-finals of the International U-21 Football Festival of Toulon by beating Japan 5-1. Loïc Rémy played the whole match and scored France's 4th goal, his 2nd in the competition. Sandy Paillot came on in the 48th minute.
The Bleuets will play their semi-final on Thursday June 7.