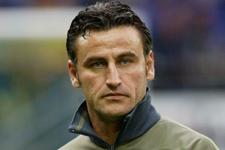 Yesterday afternoon, this native of Marseille, who played at various clubs before ending his career in China, visited the Lyon facilities with Bruno Genesio, second assistant. Already proud to be here, he gave us his first interview…


- Christophe Galtier, you have signed with OL along with Alain Perrin for 2 seasons… What is your first impression?
It's a great joy, a great feeling of pride to be joining Olympique Lyonnais, but we know also that behind all that there is an obligation to get results. I've known a lot of clubs as an assistant coach since 1999 but this is the first time I have signed with a club of such a high level. It is our duty to maintain the club's spirit, its image and obviously its results.

Does the pressure frighten you?
No. It's part of the job. We've had easy time with Alain Perrin, but also hard ones… but the pressure is there the whole time. At Lyon think the pressure is positive because the club has been consistently at the top of the table for several years in several competitions. The players are of a very high level, and so is the club, so evidently that obliges us to get some big results.

What message do you have for the players before you meet up at the beginning of July?
I haven't met everyone yet: the players, all of the staff but also those people who work with the team during the season. I want to tell them that I'm going to really enjoy working with them. And I think it will be reciprocal, because since I've been in this business, I've never had problems with a group of people. I'm very close to the players, I'm a pretty emotional guy, but I also demand a lot of hard work. I just hope the players will be in good form, because as Lean-Michel Aulas said to us, there are 17 or 18 internationals who are still in competition.

A final word for the fans…
I hope we do just as well as the managers who have been here over the past 7 or 8 years. We want to give the fans great results and put on a good show be it at home or on the road. Obviously, we want to do better than our predecessors, but you know that'll be really tough. At this level, if we improve results by just one per cent, that would be a real achievement. You might think that one per cent isn't that much, but that one per cent could mean that we win one more trophy by the end of the season.