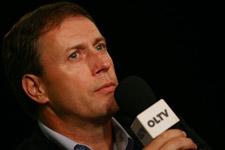 Floated in the press for the last few days, the official announcement of Alain Perrin as the new OL manager was made this afternoon in the presence of Jean-Michel Aulas, Bernard Lacombe and Perrin himself.
Jean- Michel Aulas:
It gives me great pleasure to announce the arrival of Alain Perrin from Sochaux, after spending a year in charge of the Doubs. Why Alain Perrin? Because we targeted him specifically and as a priority. A little over 5 years ago, we were beaten to his signature by OM – we didn't act quickly enough and Alain was impatient. But we were thinking of the future. So we made contact with him again recently to come to try to wrap things up, because we've had it in our heads to sign Alain for a long time – longer than you imagine. We want to bring in some new blood and also consolidate the experience we've gained in the past 8 years, so we can do as well as we have done in the past and do even better in the Champions League. We certainly want to continue our league form but also we want to win some cups.

When you signed Gérard Houllier, you put forward among his principal assets his experience in the Champions League. What are Alain Perrin's?
We're pragmatists. We're not forgetting that for 2 years now, we've been in the Champions League and finished atop our group ahead of Real Madrid. So it's a positive evaluation: OL has done well in Europe. It's true we didn't go all the way but cup football is an uncertain business. We've hired the man who took Sochaux to Coupe de France victory. We wanted a manager from the new generation, who speaks perfect French and who knows how to communicate. We also analysed his level of performance. In the past, Alain Perrin has taken Troyes to Europe, he has won the Coupe de France and finished equal 4th in the league with Sochaux. That's quite a record. Qualifying for the Champions League with OM is also quite an achievement. This performance-potential ratio led us straight to Alain Perrin. I received many offers from managers, and we did discuss other candidates. We spoke to Michel Seydoux about Claude Puel, and we could even have gone with Roland Courbis. We toyed with these ideas but in the end we wanted to put our original plan into place. We feel we have made the right choice: the right man for the right job at the right time. We have faith in him. My only reproach for Alain is for choosing Marseille 5 years ago. He has a lot to answer for.

[IMG42078#R]Have you discusses recruitment yet?
OL is a tough team to improve on. It takes a lot of work and a lot of money, which we have been trying to free up. Alain Perrin expressed one very important idea: the best recruitment strategy is to keep your best players. But we also need to bring in new blood. Especially in a team that has been French champions 6 times in a row. So it'll be a question of finding a happy marriage between the will to win, which characterises OL, and reinforcing several positions. The work of the management and technical teams can make sure of certain things for the future. Rémi Garde heads up the recruitment team. I note that, on this subject, concerning Eric Abidal, we refused an offer from Barcelona including Saviola. On the other hand, we haven't received any offers fro Florent Malouda. As for Matthieu Bodmer, we made an offer to Lille, as we did for Keita, which was, by the way, not as high as €20 million.

Alain Perrin just signed a 2-year contract. Why?
For a start, there is no question of bad faith because we have a reputation for hanging on to our managers and of defending them, notably from the power of the media. WE won 6 French championships with 3 different managers. A president's objective is to have the best possible manager in order to get the best results. We have a long-serving staff that gives us a solid basis in relation to the players. We get by thanks to our stability and a bit of innovation. To be successful tomorrow, you have to be imaginative today. I don't think we've gone too far wrong so far. I think that, having chosen Alain Perrin, we'll do even better.

What are the terms and conditions of Alain Perrin's arrival?
For symbolic reasons, Sochaux wanted a financial effort made, so the price was €350,000. An effort was also asked of Alain Perrin. But these reasons are symbolic and didn't pose any real problems. That wasn't what drew the process out. That was more due to discussions of organisation and recruitment. I would like to thank all those who took part in these discussions and were part of finding a satisfactory solution.


---


[IMG42077#L]Alain Perrin:
I am very happy and proud to join Olympique Lyonnais. This appointment isn't an end in itself. To play or manage at the highest level, you have to climb up level after level. I come here with a lot of ambition and to help OL maintain its place at the top of French football. To that end, I will be assisted by Christophe Galtier but I'm also right behind the club's plans along with Bernard Lacombe, Joël Bats, the goalkeeping coach, Robert Duverne, the physical trainer and Bruno Génésio who will be my assistant. It's an agreement where all parties are on the same track with a view to keep getting good results for Olympique Lyonnais.

Concerning recruitment, do you have any names in mind?
I have indeed discusses the names of certain French national team players who are either injured or on the point of departure. With Bernard (Lacombe), I'm engaged in the ongoing process of trying to keep players who have proved their worth. As some players leave, you need to compensate for their absence. The squad has been strong and showed its worth.

Is the signing of Karim Ziani a priority in your opinion?
I really appreciated working with Karim Ziani, who brought a lot to FC Sochaux. It's a bit soon to start throwing names around. Currently we're very busy reassuring certain players who are having second thoughts about staying at OL, convincing them to stay.

Are Eric Abidal and Florent Malouda priorities?
Obviously. As a left-sided combination they are the envy of all Europe. I will speak to them on the phone to see how strong their desire to leave is and to see whether they want to stay with us. I intend to make contact with the staff and the executives, and maybe go and see those who play for the French national team.

[IMG42079#R]How do you see OL's game and how would you like to develop it?
OL hasn't been that goo this year (ironic)… but ended up with the best defence and the best attack in the league. I tip my hat to Gérard Houllier. The team does well on the field. I have ideas in terms of game plans. Above all I love effectiveness and also attractive football, but not just for love of the game. I don't think that effectiveness and the beautiful game are conflicting concepts. I will base my work on the systems already in place, because the players need to have reference points. It's more in terms of the players' characteristics that we'll try to make things run better. The 4-3-3 was the best solution up until this point. But now that depends on the team. In this domain, I'm not dogmatic. It's not the system that's most important, but defensive principles and attacking verve. We have to make the most of the team's strong points.

Does coming to Lyon represent a risk for you?
Risk is part of the job; if you don't want to take risks, find another job. I've already played in the Champions League with Olympique de Marseille. I know the competition. With a better team and better staff, we can reasonably take our chances. The important things is to have the talented players that OL possesses. They are the ones who make the difference. Having highs and lows is a manager's lot. I've had my time in the desert. OL is at the top. I'm conscious of what that represents in terms of obligation. And I'm up to the task.