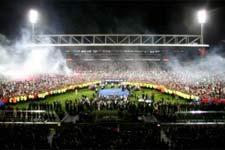 Other figures from season 2006-2007. Juninho took the most shots at the opposition's goals… as usual.
The Brazilian took 167 shots: 21 shots inside the area, 146 outside the area. He took 116 free kicks and scored 12 goals. Last season, Juninho took 135 shots, 85 of which were free kicks. Malouda is far behind him with 118 shots for his 13 goals. In third place is Källström with 70 shots for his 4 goals.

OL shot 936 times (89 goals). 486 shots from outside the area and 450 from inside. 346 shots on target, 387 off target and 203 blocked. Last season, OL shot 826 times in the same number of matches for 105 goals. That's 1 goal every 8 shots against a goal every 10.5 shots this season! OL was less effective in front of goal this season.

Of the 19 teams faced, OL took all 6 points against 8: Lens (0 goals scored), Nantes, Lille, ASSE, Lorient, Sedan (0 goals scored), Nancy (0 goals scored), Le Mans. OL took 4 points from 6 teams : Auxerre (0 goals scored), Nice, Sochaux, OM, Valenciennes and PSG. OL took 3 points against 2 sides: Bordeaux and Troyes. Finally OL took 1 point against 3 sides: Toulouse, Rennes and Monaco. Monaco is the only side against which OL failed to score this season.

While OL dominated the league, they didn't have the best track record in both halves of the season as they did in 2005-06. The top 3 from the first half of the season: OL 50 points, Lens 35 and Sochaux 33. The top 3 from the second half of the season : OM and Toulouse 34 points, Rennes 32. OL follows with 31 points, the same as Auxerre and Monaco.

That makes 6 seasons in a row that OL is French champion. 313 matches played for 182 wins, 69 draws and 62 losses. That's a success rate of 58%!

Gérard Houllier was in charge of OL for 108 matches. 70 wins, 23 draws and 15 losses. 194 goals scored and 83 conceded. That's a success rate of 64.5%. With 108 matches, he is ranked behind Domenech 202, Le Guen 156 and Lacombe 124. He took 165 league points from a possible 228, or 70%.