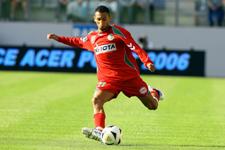 Rémy Riou and Nadir Belhadj, the 2 Lyonnais on loan, both ended their loan spells with a defeat against PSG and Marseille respectively.
This season, the Sedan left back played 37 L1 matches and scored 2 goals. He was accorded the best average score for a defender of 5.88/10 (equal with Cris) by sports daily L'Equipe.

At Lorient, Rémy Riou played in and started 22 matches in goal. He conceded 19 goals (an average of 0.86 goals per match).