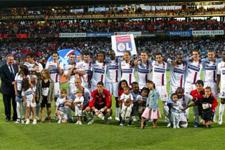 All the reactions from the French champions...
Patrick Müller: It's magic to experience this – 6 years in a row. It's great to celebrate with the fans. I'm happy to have come back to Lyon, it has everything I need. I play a little bit less but that's how football works. I saw Claudio on the pitch, as we swapped places, it was really emotional. I wish the best of luck for the future.

Jean-Michel Aulas: It's amazing, you appreciate it all the more when you think about how tough it was. The transfer period opens soon and the greatest reward is to know that players come here on the basis of their talent, but also to win this trophy. It's also important to be in the Champions League each year. We'll prepare well for next season but also for the challenge of winning a 7th consecutive title.
Claudio? It has been a nostalgic night… The captain and the manager are leaving us. People come, people go, that's football.

Claudio Caçapa: I've just had a fantastic experience, a really moving moment…Normally, before each match, I have rest in the afternoon to be in top form in the evening. Today, I couldn't get to sleep. I'll remember this match as long as I live. The support of the fans, my team-mates, the staff, my friends… this city, this team… it means a lot to me. It's written on the t-shirt, Olympique Lyonnais is a huge reason to be happy.

Florent Malouda: This double reminds me of a certain night in another shirt. We wanted the celebrations to be excellent. I was hoping for a penalty for Claudio, but it didn't happen. He is a charismatic man who brings a lot to the side. The team will miss him terribly, mostly in terms of his humanity.
The future? "You have to leave people to their chatter", as the old Creole song goes. We're happy with this season, it wasn't easy.

Gérard Houllier: High level football should get results but also entertain. Top moments? I had many of them. I had 2 exceptional years here. I say thanks and pay my respects to all my players, particularly those who stuck together and were tough mentally, that's to say those players who didn't play a lot, like Jérémy Berthod…

Juninho: It gets better every time. Abdel, the medical staff, Didier and Catherine Rajat, Fred and Pierre, our press officer, Robert Duverne, Joël Bats… There are so many people in our team, I thank all of them. I forgot OLTV! Claudio played his 10th match tonight, can his contract be renewed? He's leaving, it's a real shame, we salute him.

Jérémy Toulalan: I'm sad for the players, fans and employees of Nantes. I know Frédéric Da Rocha and Nicolas Savinaud well. I hope they make it back to L1 quickly. And I'm happy to be champion of France. Tonight was very emotional, with the departure of Claudio Caçapa. It's something special. The French title is the best thing we could ever win, along with the Champions League.
Off all the matches this season, my favourite is our victory in Marseille, because there were goals and some fantastic football.

Patrice Bergues : It was an open match. There was quality and drive, technical excellence, great goals and a wonderful win – it caps the season off well. It was very emotional. A page turns… I've had 2 amazing seasons with many great moments.
This season was exceptional for us, taking 50 points from the first half of the season. The quality of the people and of the football here is extraordinary. I really enjoyed working in this team.
I'm leaving but the story continues. Men come and go but this club will go on to win the biggest trophies there are. There is a spirit to this team. It was a huge honour to have been part of it.
In coming to Lyon, I left behind a difficult period of my life. I regained confidence and the taste of victory on the field. I will always remember these 2 years. I thank all the people at the club with whom I worked, the players and the President, the people at OLTV, with whom I always had a great time, people I got along with really well. Having known these people is a real honour for me.

Grégory Coupet : It's pure joy, a real pleasure. WE hope we can do it for another 5 years.
Tonight, Nantes played the game. There wasn't much space, which made for a good match with lots of chances.
Tonight the main thing was to give Claudio a rousing send off. He's an extraordinary man, a strong example. As for my personal case, we're talking about it. I'm 34, and I'm looking for a 3-year contract without conditions. We're discussing it.

Claudio Caçapa : I made the decision to leave, but maybe in the future I'll do what Patrick Müller did…
Six and a half years, that's a lifetime. I had lots of good times and friendships here. There is a time for everything: to come and to go.