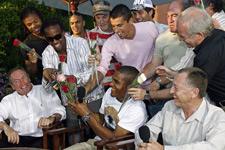 Gérard Houllier, Florent Malouda... Cris and Eric Abidal have been honoured in the 16th edition of the UNFP Awards...
From the Olympia in Paris... to the terrace of the Byblos in St-Tropez. In the 16th UNFP awards ceremony, Gérard Houllier was chosen by his peers as the best manager in L1 and Florent Malouda as best player. Cris and Eric Abidal were chosen in the L1 team of the season. Teddy Richert was preferred to Grégory Coupet in the position of goalkeeper! As for the OL women's team star Camille Abily, she received, in Paris, her second award in a row.

Samir Nasri, Francis De Taddéo, Ilan and Zinédine Zidane received the evening's other awards. "Thanks to the whole club, to the players, my staff and all those who voted for me…" Gérard Houllier wore after his 'win'. As did Florent Malouda: "I'd just like to say hi to Guyana, and that I'm thinking of my family." Canal+ put together a special report for the league's top player, which showed "Maloude" as a youngster with his mates. A moment full of emotion. OL president Jean-Michel Aulas spoke with emotion and pleasure, saying, "there is a great humane quality to this squad".

Afterwards it was time to go and relax on the beach. Fabio Santos, despite his heavily strapped knee, joined his team-mates. "It'll be like this for 4 weeks, but it'll be okay…".