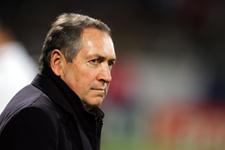 Gérard Houllier has called up an 18-man squad for the trip to Monaco. Fred (ankle), Källström (adductors) and Juninho (Achilles tendon) are injured. Ben Arfa and Baros are suspended. Wiltord was not selected.
The OL squad: Abidal, Benzema, Berthod, Caçapa, Clerc, Cris, Coupet, Diarra, Govou, Malouda, Müller, Rémy, Réveillère, Santos, Squillaci, Tiago, Toulalan, Vercoutre.

In what frame of mind will you travel to Monaco?
We will go there with one simple objective: the season's 13th away win. It's our primary objective, our real challenge. Right now, we share the record with Reims and St-Etienne. A win in Monaco would be not only a feat but another record for the club.

It's been a while since Olympique Lyonnais won in Monaco. Is that an added motivation?
It's also been a while since l won in Lille… We're going there to win. If we defend as well as we have been recently, there will be an opening for us sooner or later.

OL is currently leading the league in terms of results in the second half of the season (equal with Marseille, Rennes and Toulouse). Does this ranking interest you?
Yes, because I think a true champion dominates the whole season. We have 2 matches left to get there.

How are your players doing?
Training this week was reassuring and openly contested. There is still competition in the squad and the players never give up. Winners want to keep winning.

Once again, your attack is decimated...
Usually, I like to take 5 of 6 attackers. For this match, I have 4. There are clubs who travel with just one and who put everyone behind them or make them come forward… The attack will be: Malouda, Benzema and Govou.