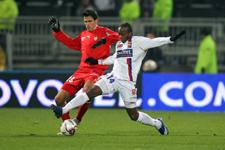 90 minutes at the foot of The Rock for the last trip of the season – there are worse trips. OL will have to look to simple pleasures – several records to break, including a record 13th away win – to spice up this match.
As always happens at this time of year, the French Riviera is teeming. With the Grand Prix approaching, it's already hard to find a hotel room or parking spot…

In the Fontvieille neighbourhood, the Stade Louis II will host the match between the champions of France and a club becoming less and les princely. 33 points behind OL, Monaco have backed up their result of 32 points behind OL last season. The change of management last summer has changed nothing. What steps will ASM take during the off-season?

The visit of the Lyonnais is always a gala match, even when there is nothing really at stake. A win against the 6-time French champions will always have a unique flavour. Givet and his men know that OL has trouble in the principality, where it hasn't won since 2000-01; worse, it has only drawn once (2004-05). Before hosting Nancy for the last round of the season, the Rouge et Blanc will have a chance to restore honour to their emblem.

And what will OL come looking for in this small corner of land between a rock and a hard place? Honouring their new French crown. Since being officially crowned, OL has failed to win away from Gerland (draws in Auxerre and Paris). Will these 90 minutes on The Rock bring a record 13th away win for the season, an absolute record among the 20 clubs? Not to mention that the Olympiens have strung together 13 matches undefeated and that they can add another 2 matches to their record before the season is out. They are still defending the title of best defence in the league, a record for which Rennes is also in the running: OL has conceded 25 goals and Rennes 26. The match will be special for Sébastien Squillaci, former ASM defender alongside his mate Gäel Givet. As for Sylvain Monsoreau, he will be keen to prove that his move from Lyon to The Rock was a good one.

Despite injuries and suspensions, Gérard Houllier won't have any trouble putting an excellent team together. Govou, Benzema and Malouda will play up front and for the rest, the OL manager will have a chance to rotate his squad somewhat. Let's hope the match between OL and ASM will be a festival of good taste.