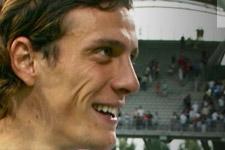 Three days out from OL's trip to Monaco to take on ASM, Toto Squillaci discusses the match. An emotional return for the OL defender who spent 4 seasons in the principality.
On Saturday, you'll meet up with your former Monaco team-mates. Will there be a special feeling as you take the field?
Of course. For me it'll be very special to play against my former team-mates in the stadium where I had some awesome moments. It'll be a huge moment but I'll have to forget all that when the whistle blows.

What do you make of your former club's season?
They had a calamitous start to the season, which made the rest of the season very difficult, but they have bounced back well. They are still a great team with some excellent players. We've seen it: they've had some great results, stringing several wins together. That proves they have quality. It's a shame for a club like Monaco, which should be in the top 4 or 5 teams on the table.

What memories do you have of the first time the 2 clubs met this season (0-0 at Gerland)?
Things were different then. It was the last match before he winter break, and we had played a lot of matches before that. There was some fatigue, and it was a rather closed match against a good team, which proves it won't be an easy match. To win away at the Stade Louis II, it'll take a good Lyon team having one of its better games.

What do you hope for in this match?
To continue to live up to our title of champions, like we did against Lens. There is also the away wins record to beat. It's a little bonus, an extra source of motivation.

What do you make of your own season?
It's been good, I'm very happy at Lyon. I've had a good season here. To keep developing, the time came to leave Monaco. Coming here wasn't easy, but I progressed. I played quite a few matches and I won my first championship title. That's why I came here. We played in the final of the Coupe de la Ligue. In coming to OL, I made the right choice. I needed something different, to play with other partners, another club. But that has nothing to do with what I was able to do at Monaco, what I owe to that club. My first call up to the national team I owe to ASM. I had some great moments there in the league and the Champions League. I'll never forget it, which is why it saddens me to see what has happened there. I left everyone on good terms and received a lot of messages when we won the league. I'm loved there, and that makes me really happy.

Have you spoken to your friend Gaël Givet on the phone?
Of course. I spoke to him a week ago but we call each other anyway. Unfortunately he didn't play when the 2 clubs met just before Christmas. If I'm selected. It'll really be something to play against each other, we were used to playing together. This time it'll be different.