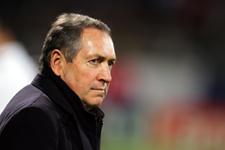 Gérard Houllier responded to the revelation in daily paper Aujourd'hui en France that he will be heading to Kiev next season.
What is your reaction to the claim in Aujourd'hui en France that you will, be heading to Kiev next season?
If you believe everything you read, last Thursday I was already in Newcastle. On Friday, I would have been in Kiev. When I was in Lyon then Paris. Yesterday I was at Manchester City. There's a new story every day and it'll be this way for the rest of the season, maybe even until the transfer market ends. All I can do is deny things. I won't be going to Kiev next year.

Will you still be at OL next season?
I'm staying at Olympique Lyonnais. For the moment, I'm at Olympique Lyonnais. Let's finish the season. We still have 2 important matches to play, 2 matches that could see us equal our points record from last season and also remain unbeaten. Should we win in Monaco – as I'm more interested in that than all the rest, which really just makes me laugh – we'll set a new record (number of away wins in a season).

How do you react to these rumours? Do they annoy you?
No. I spent a large part of my career in England where rumours are legal tender. Most of the time it just makes you laugh more than anything else. There is information and the denial of information. That gives 2 opportunities to print something and then sell it. That's it.

Are you flattered by the rumours?
I'm flattered but I can assure you once again that I won't be going to Kiev next season. There was Newcastle. I knew it was false because I knew what was going on there. There will also surely be Manchester City as the manager, who I know well, resigned and there will have to be a successor. You have to know that every time there is a departure in England, my name will be mentioned. I know Kiev were interested in me. It's true there was an approach made but it was in winter, not spring. And it's now almost summer. I also know they were interested in other names as they were after a big manager. It's possible they used my name to say "if you don't get on with it, he'll get the job instead of you". Sometimes you get used like that, it's part of the game of the media and the agents. (Concerning the rumours in connection with the US and Australian national teams) As soon as someone near me speaks English, they are suddenly Australian or American. I can't associate with my Australian and American friends because instantly everyone thinks that's where I'm headed. I can assure you these rumours are unfounded. I'm currently planning for next season with my staff and the rest of the club. I spoke to the President on the phone this morning. I told him it was all ridiculous and phoney.