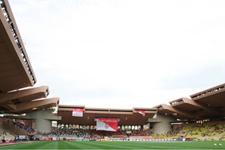 The Stade Louis II has been an unhappy hunting ground for the Lyonnais since they first took hold of the French championship. 6 official matches and 1 in the Tournoi Club Europe… without a win… it's up to the King of French football to buck the trend...
It began in July 2001 in the Tournoi Club Europe, when OL, having beaten Lens 1-0 (goal from Malbranque), went down 3-0 to the Monegasques, who had just come under the control of new manager Didier Deschamps. The Italian contingent of Simone, Panucci and Roma came to the fore. In the league, Bierhoff and Nonda gave Monaco the win. Givet scored an own goal.

The following season, Nonda and Prso continued Monaco's dominance. In the same vein, in 2003-2004, the Olympiens left Monaco empty-handed in the league (3-0, a double from Giuly and a strike from Morientes) and were stunningly eliminated by the principality side 4-1 in the Coupe de France (Morientes x 3 and Prso). Elber saved OL's blushes by scoring before going off injured.

In 2004-2005, in a hard-fought match in which Essien was sent off, Clément equalised at the end of stoppage time with a header from a Juninho free kick after Rodriguez seemed to have snatched the win by scoring in the 84th minute.

Finally, last season, in a matched that was replayed because of a soaked pitch, Monaco rather easily got the better of an off-colour OL. Chevanton and Di Vaio scored for Monaco and Carew for OL.

You have to look back to 2000-2001 to find the last OL victory in Monaco, 2-0, with goals from Laigle and Marlet.