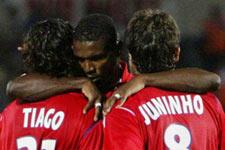 After a phenomenal first half of the season, OL slowed down considerably. But in the last few weeks, the Lyonnais have shifted gears again… and their numbers speak for themselves...
50 points in 19 matches, that's 2.62 points per encounter… a bit of a rest at Christmas… and then nothing, or just about. In the first 4 matches after the winter break, OL lost 3 and drew 1. That's 1 point from a possible 12! Without displaying the same superiority from the beginning of the season, OL got going again after the defeat to Troyes. They have taken 27 points from their last 13 matches, during which time they have remained unbeaten. No other L1 side has produces such a run this season. OL has an average of 2 points per match… the rhythm of a champion.

When setting his goals for the second half of the season, Gérard Houllier announced that a new championship was beginning and that OL had to win it. The Lyonnais got off to a terrible start but then Juninho and co pulled themselves together and got onto the track their manager had set out for them. They have taken 28 points from 17 matches and share the title of leaders in the second half of the season with Marseille, Rennes and Toulouse.

In 2005-2006, OL won both halves of the league season: 44 points in the first and 40 in the second. In 2004-2005, they did the same: 39 and 40 points respectively.

Among the sides that have already surpassed their points total from the first half of the season, there is: Rennes (28 as opposed to 25), Lorient (25 as opposed to 24), Toulouse (28 against 24), Auxerre (25 against 23), Monaco (25 against 20), PSG (23 as opposed to 19), Troyes (19 against 17), Nice (25 against 16) and Sedan (24 as opposed to 13). Other than OL (28 points as opposed to 50), Lens trails the furthest behind its first half total: 21 as opposed to 35. But so far it's only cost them one place on the table. RCL has slipped from second to third, 22 points behind OL.

A word on the rankings after 36 rounds. OL has a 20-point lead over Marseille and 22 over Lens and Bordeaux. The Lyonnais have been amazing on the road, collecting an amazing 39 points… half their points total. Lens is next with 22 points, Bordeaux has won 17, the same as Marseille! So the gap between the 6-time French champion and its pursuers is largely due to OL's away form. On the eve of round 36 OL has taken the lead in terms of points won at home with 39 points. They have caught up with Bordeaux (39) and are in front of Marseille by one point (38).