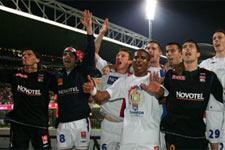 Gérard Houllier has assembled an 18-man squad for the visit of Lens on Wednesday at 20:45. Cris, suspended against Paris, makes his return. Baros and Ben Arfa are suspended. Wiltord is ill. Fred and Källström are injured.
The squad:
Coupet, Vercoutre - Réveillère, Clerc, Cris, Abidal, Squillaci, Müller, Caçapa - Toulalan, Diarra, Juninho, Fabio Santos, Tiago, Govou, Bettiol, Benzema, Malouda.

> How is the team doing?
The team is doing very well, the lads are in good form. In training, there is a lot of application, technical vigilance and concentration on positioning. I've seen a lot of good things in training.

What state is your attack in?
We're missing 5 players. (sighs). The attack will be: Malouda – Benzema – Govou. Which is the attacking line-up for the national team. We'll make do with what we've got, but what we've got is really quite excellent.

You have lots of injuries in attack. Are you worried people will accuse you of fielding a B-team?
Last year, at Lille, we had Abidal, Malouda, Fred, Müller, Monsoreau and Réveillère. For a B-team !!! It's a stupid idea. We simply didn't take our chances.

What is at stake in this match?
What's at stake is honour and pride. The team is playing well and has rediscovered the mobility and fluidity in its game. We weren't faltering. We have had the season of a champion. Against Lens, we'll have to play to win. That's the only way you progress. We saw against PSG that we never give up. A title is qualified by the game you play and the chances you take.

Are you expecting a physical match?
We will need to display the qualities of power and control. Lens is one of the most powerful teams in the league. We'll have to stick together and play strongly.