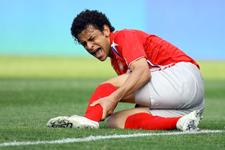 Fred and Kim Kallström both underwent tests early this afternoon.
Fred: X-rays revealed that the Brazilian sprained, and didn't break, his left ankle. He will have an MRI on Friday to determine how long he will be out for.

Kim Kallström: The MRI detected a tiny tear of his left adductor. He will be out for an estimated 3 to 4 weeks.
The length of his absence will be more accurately determined when he has another MRI on Monday.