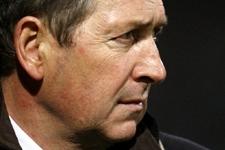 Gérard Houllier has called up 18 players for the trip to the Parc des Princes. Karim Benzema makes his return. Cris is suspended. Sylvain Wiltord (selection) and Tiago (family reasons) are not in the squad.
The OL squad:
Abidal, Baros, Benzema, Caçapa, Clerc, Diarra, Fred, Govou, Juninho, Källström, Malouda, Müller, Réveillère, Santos, Squillaci, Toulalan, Coupet ,Vercoutre.

A word on the match against PSG. Is it in your eyes a particularly interesting match?
Every match is interesting. As it's to be televised, we'll have to produce a good performance and get a good result. For a sick team, we're in good shape. There others in worse shape than we are. Since February, we've played like champions. What's at stake in this match is ourselves; the identity of the club, the quality of the team. In any case, no one can say we've given up. Against Valenciennes and Auxerre, we created the best chances.

Do you attach particular importance to your unbeaten or away win records??
The records beling to the players. We have two trips left, to Paris and to Monaco. It would be good for the club. I always play to win because it's the only way for a team to progress. We play much better football when we have this attitude. Against PSG, we'll need to be powerful and strong tactically as they are adept at the very fast counter attack. We have to prevent them from playing their own game. We're in "phase 2" now, which involves living up to our 6th consecutive title, which is more important than points. Our personality, identity and character are at stake. We have acquired the privilege six games from the end of the season of not having to play for points, but it's a privilege you have to respect.

How have you taken the announcement of Milan Baros' suspension?
Fatalistically. I knew they would make an example of him. If Baros had done that with Danze, we wouldn't be talking about it.

What do you think of PSG's good form recently?
In terms of results, in their last 5 matches, they have earned 4 wins and 1 draw. As their number includes former OL players and as the PSG president is an old friend, I can't say I'm unhappy to see them at this level. I'm also really happy they're not fighting for survival against us. It's the Parc, there's a special atmosphere there. It should be a good healthy battle.