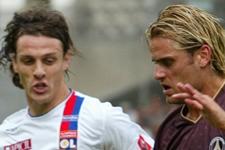 PSG, almost safe from relegation, will host the 6-time French champions at the Parc des Princes, a chance for a serious party and for some old friends to meet again…
With a 6-point lead over the top-placed side in the relegation zone and a favourable goal difference, PSG has the champagne on ice in anticipation of impending celebrations… of staying in Ligue 1 next season, its only preoccupation for the last several weeks. It's a long time since they finished in the top 3, something they have achieved 11 times in 33 seasons in L1, twice as the champions. They have had to set aside all sense of nostalgia and put their nose to the grindstone, confronting various negative situations… before regrouping and preparing for next season and greener pastures ahead.

Unbeaten in 5 matches, from which they have taken 13 points, it remains for Pauleta and co to put an end to the relegation threat as quickly as possible. In playing a couple of hours before Troyes and Nice, they will have to focus completely on their project for the day. Without Luyindula, suspended, Paul Le Guen will also have to do without Frau and Traoré, both injured. Notably, he may have to give the Colombian Mario Yepes, just back from a serious injury, a start in defence.

The Lyonnais rediscovered their best form against Le Mans last week and honoured, as Gérard Houllier wanted them to, their 6th consecutive French title. A match at the Parc is always a standout moment in the season. It would be terrific to get out the party gear for the simple pleasure of the spectacle but also to respect the opposition. Without forgetting the various factors, both individual and collective, at stake in the match. To maintain its league-best defensive record, to register a record-breaking 13th away win for the season, to not go down to a 5th defeat and to pass the bar of 84 points. And there's also the abyss between OL and second place to consider… Individually, Fred can rejoin the league's top scorers and also beat his record of 14 goals from last season, Govou is yet to score his first of the season and Juninho is looking to get back to scoring ways, perhaps with another trademark free kick…

On Sunday, the 2 teams will meet for the 4thtime this season. With Guy Lacombe on the bench, PSG lost 3 times in different competitions despite each time posing OL serious problems. Will Paul Le Guen do better than his predecessor did? "Sure, a lot of our players know each other well and we're familiar with OL's game, but that's not enough to beat them… but we will do everything we can to get either 1 or 3 points… We need them…" Former OL manager Le Guen is expecting a tricky encounter. Tricky but also pleasant for former OL player Jérémy Clément. "Yes, but I won't forget that the primary objective is to win…"

While Paul le Guen, Yves Colleu and Jérémy Clément will have an emotional encounter, it will be similar for Juninho, Coupet, Réveillère and Govou, who were managed for 3 seasons by the Breton coaching team. As for Gérard Houllier, it will be a special moment when he returns to the Parc des Princes. With the exceptions of Cris, suspended, and Tiago, for family reasons, Gérard will have a full squad to call on for the match.

All told there are many ingredients to make this match between 2 sides who have grown so far apart, very attractive and to light up the faces of the players while drawing plaudits from the stands packed to the rafters.