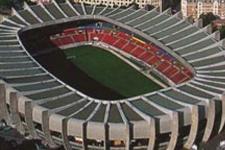 Since season 2001-2002, OL's first title, the Lyonnais have only scored 3 goals at the Parc des Princes… 3 goals in 5 matches… 3 headers…
A 2-2 draw, then a 2-0 defeat and 1-0, a 0-0 draw and finally a 1-0 win. That's OL's record for its last 5 matches at the Parc, in chronological order. Only 3 goals scored by Coupet and co. 3 headers, all coming after set pieces (2corners and 1 free kick) delivered from the right by the same player: Juninho.

The scorers? Née with a free kick; Govou after a corner in 2001-2002 ; and Fred after a corner in 2005-2006. All these were scored in the goal backing onto the Auteuil stand. They weer also all scored in the first half between the 14th and 27th minutes.

Juninho, who set up all the goals at the Parc, hasn't scored since the visit of Sochaux to Gerland on February 24 2007. He will be up against Landreau, the keeper against whom he has scored his only goal against PSG. It was on October 2003 at Nantes; a shot from outside the area after he received a pass from Malouda. Lyon won 1-0. On February 1 2003, the same keeper denied Juninho's effort from the penalty spot, ensuring a 0-0 final scoreline.