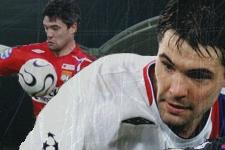 Jérémy Toulalan discusses OL's trip to the Parc des Princes where he will meet up with former team-mate Mickaël Landreau. "La Toule" also discusses the delicate situation of the team he cut his teeth at, FC Nantes Atlantique: "They would need a miracle now."
How's the atmosphere at training?
It's great because we've been champions for a while already. So we're trying to enjoy training by playing a lot.

A word on this weekend's match in Paris.
We'll try to enjoy ourselves and play even though there's nothing at stake now. We'll look to win because we're competitors. If we start a match, we want to win it. The Parc des Princes is one of the most beautiful stadiums, with a great atmosphere. They're always tough matches to play. The Parisians are on a winning streak. We've beaten them 3 times this season, so they'll be looking to save face. We'll have to step up to the plate.

An adversary you've done well against so far this season…
Yes, even though they've had a rough trot. In the Trophée des Champions, it went to penalties. In the Coupe de la Ligue, we won at the end with 2 goals from Nino (Wiltord). So we know they're never easy matches.

A word on PSG's contrasted season.
They were expected to do much better. It was tough. They're not easy seasons to manage but they've bounced back well. They'll beat the drop and are now in the process of reconstructing for next season.

Have you followed the performances of Mickaël Landreau ?
Yes. I've spoken to him on the phone. It's been tough for him but he's managed it well, especially in the really tough moments.

Have you spoken with him about the difficulties that FC Nantes is going through?
No as it's quite painful for the Nantais but also for us. I don't have the words. What's happened is very sad. What can you say? That's how the league is. 3 teams have to go down. They would need a miracle now. It's been hard to handle. They've tried everything to survive. They've already had some close calls but have got through. Everyone is really sad about it, but they need to live their heads now.

PSG's good form has a lot to do with a former Lyonnais, Paul Le Guen. Has there been talk about it in the dressing room?
We know he's a very calm person. And that's what he's been able to bring to PSG: a bit of serenity. It hasn't been easy. He has managed to calm down their game.

Is there discussion of the away wins record among the Lyonnais?
Yes. We want to win. To motivate us even more, the coach gives us challenges. 13 away wins in a season is a challenge to rise to.