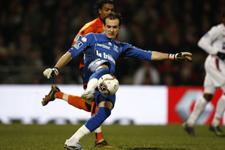 Rémy Riou and Nadir Belhadj both played this weekend.
A solid performance by Rémy Riou once again made the difference for Lorient, his clean sheet gaining them a point in their draw against St-Etienne. Saved by the bar on the hour mark, the keeper loaned out by OL repelled Gomis' shot before winning a onw-on-one with Dabo.
He received his team's highest score in sports daily L'Equipe. This season, the keeper loaned out by OL has played 18 L1 matches with and an average rating of 6.22 out of 10! He has kept 11 clean sheets and has conceded only 10 goals in 18 matches!

At the Stade de l'Aube, Nadir Belhadj played the last 12 minutes of Sedan's 3-2 loss at Troyes. Sedan led for most of the match but were reeled in and then beaten by Troyes in the dying minutes, leaving only the slightest chance of beating relegation.