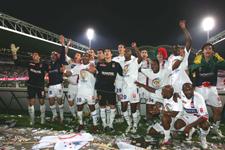 At the final whistle, Gerland gave its players an ovation, finally able to appreciate the full value of the historic 6th consecutive French championship title.
Delayed by the draw against Rennes, the communion between OL and their indefatigable supporters was all the more beautiful after a masterful match against Le Mans. The Lyonnais were reconciled with their fans and erased, in style, the incomprehension that had disturbed the usually idyllic link between team and supporters. "they love goals and a strong spectacle," said Sidney Govou. The native of Puy-en-Velay and co didn't fail to put on a show on a night already destined to be a huge party.

With no fewer than 7 Brazilians on the pitch at kick off, there was samba in the air at Gerland. For Lyon, regulars Cris and Juninho were joined by Claudio Caçapa, for an emotional return to the centre of defence, Fabio Santos, in place of Tiago, and Fred, who was given his first start at centre forward since the Coupe de le Ligue final on March 31.

Barred from the squad for being late to training, Lyon's number 11 didn't waste time in reminding everyone of his formidable qualities as a striker. From a Juninho corner, Florent Malouda's header was pushed by Yohann Pelé into the path of Fred who, at point blank range, easily beat the Le Mans keeper (39').
Fred's 14th goal of the season was just recompense for an OL side that had made the early running and seized control of the game, putting their pedestrian performances against Rennes and Auxerre behind them. Florent Malouda crossed dangerously but found no takers (7') and then put one on Cris's head, but the Brazilian was off target (20'). Malouda also saw Pelé fist away his powerful shot (36'). Fred fired over in the 36th minute before hitting the net.

By the break, the Manceaux still hadn't shown much vigour. The second half however afforded them brief chances to trouble the 6-time French champions. Grafite forced Coupet into his first save of the match with a curling shot in the 52nd minute. Coupet then cleared Douillard's effort (54') but could do nothing to stop Grafite from equalising after confusion in the OL defence between Claudio Caçapa and Eric Abidal (64').
But the OL fans didn't have to worry for long. After Florent Malouda and Sidney Govou shot directly at Yohann Pelé (53' and 60'), Anthony Réveillère crossed for Malouda who volleyed straight past the Le mans keeper.

Gerland found its voice again as OL pushed up in attack. In front of 40,026 supporters, Florent Malouda forced another decisive save out of Pelé (70') then crossed for Fred who couldn't get enough on his header (71').
Cris had a close call when his skidding shot was pushed wide by Pelé, typifying the strong desire of the Lyonnais to erase the incomprehension following the poor game against Rennes (85'). In stoppage time, "Thank you OL" was sung loud from the northern stand, rounding out the communion between team and fans.

After a lap of honour, the fireworks began. OL has been living a dream for the last several seasons. Year after year, images of joy and partying abound. Long may it stay this way!