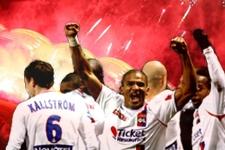 OL has few concerns this week other than to celebrate their title win at home to a Le Mans side still looking for its first positive result against the Lyonnais…
It's been a long time… too long since OL has had an awesome performance on its home ground. The 3 goals against Sochaux aside, Juninho and co have been far from prolific (scoring 1 goal 6 times and no gals twice) in the second half of the season. This must change in the next 90 minutes they play, especially because before and after the game there will be colour, music, dancing and fireworks. No-one has forgotten last year's fireworks display when Le Mans visited… an avalanche of goals flying past Pelé and then Roche into the Le Mans goal. Without going as far as an 8-1 drubbing, the OL fans will appreciate a relaxed game, goals and a victory. OL just need to find a bit of their old magic.

"They'll play a lot and then relax against us. we'll have to be at 120% against OL. We have to take the initiative. It would be great to finish the season with a few extra wins. That would put us on a roll for next season…". The Manceau Laurent Bonnart, present for the famous drubbing, has no desire to go through it again, and said so on the club's official site. Manager Frédéric Hantz hopes among other things that OL will be off colour and adds: "I'm sticking to my objectives… doing better than last season (11th). Right now, we're off form and we're conceding in the second half (2 against Lens, 2 against Auxerre and 2 against PSG). For the moment, I'm on plan A. If we fail against OL and Nantes, then I'll move onto plan B". MUC would obviously love to turn around the shocking trend of never having taken a single point from OL: 6 matches and 6 losses!

5 matches left for the Kings of France. 5 matches to punctuate an historic yet troubled season with fine performances. There will be waves of joy and also the final steps for some in the OL colours, most notably Claudio Cacapa. 5 matches left to show the happy face of a champion still hungry for more success. There are embellishments to add to the title; new records to break in order to colour their uncontested supremacy.

"We need love right now…" said Gérard Houllier in his press conference. For there is no greater love than a love shared, and the players and fans know what's needed to make it happen… Give a little to get a little!