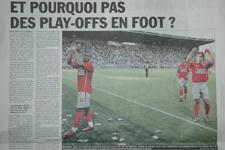 Between the Champions League semi final and the presidential elections, it's hard to find any space in the papers on this Thursday April 26. Despite that, OL isn't completely absent from the sports dailies…
[IMG41305#L]Le Progrès starts with Le Mans' visit to Gerland, underlining Le Mans' consistently strong record at Gerland. The regional daily paper emphasises that, as much in the league as in the cups, "the matches fought out by Le Mans since their return to L1 hold great memories for the fans".

[IMG41303#L]Willy Maisonnasse hears from the fans in Aujourd'hui en France: "In Lyon, the fans are angry." Mixed expressions of bitterness and disappointment follow… "It's disgraceful to see OL slump like this!" or "Winning the title slowly, we're sick of it!" blackening to excess an historic season punctuated with a 6th consecutive French championship title.

[IMG41308#L]A French championship title that l'Equipe throws into a different light by asking: "and why not have play-offs in football?". "Pity the Lyonnais!" implores the sports daily. "Champions so early yet so blasé."
L'Equipe explains that "If football has never worried about play-offs, that's because, of all the team sports, its results are the most uncertain and winning consistently is enough to designate the champion". Our colleague Jean –Luc Thomas asks: "Should the champion be the most consistent team? Or should a side that has beaten the odds and the obstacles in their path, the team that is still standing like a boxer in the ring, win the day?". He underlines that "the drama heightens the inherent beauty, something that OL has been missing this year. Something which is the quintessence of a final four in basketball".

Interviewed by newspaper Le Monde, France manager Raymond Domenech expresses his opposition to the G14, the organisation that brings together Europe's biggest, richest clubs and which has led to the emergence of two distinct tiers in the footballing world. "We must protect this sport from money and the hegemonic instincts of the G14. I fear the closed circuit that the 18 teams that constitute this pressure group want to put into place," he explains.