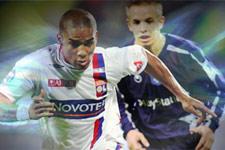 Toulouse failed to win at Rennes, meaning that OL has officially been crowned French champion for the 6th consecutive season. Now all that's left is to embellish this historic title… and that task begins on Sunday at Auxerre…
It was in front of the TV that the Lyonnais confirmed their new title; a title already secured, according to some, with the draw against Rennes. This time, and no doubt about it, Juninho and co made history. And what better way to celebrate their new crown than by notching up a 13th away win in what would be another broken record?

OL, somewhat below par these past few months, can now relax without fear of being caught by their rivals. They can break other records while other teams fight for L1 survival or European places in the 6 remaining rounds. OL's "Lap of Honour" begins this weekend in the Yonne at the Stade Abbé Deschamps, a happy hunting ground for OL: 7 wins in 7 consecutive matches.

With Tiago, Benzema, Fred, Govou and Diarra are out for various reasons, Gérard Houllier may be tempted to give some game time to those who have been warming the benches, such as Clerc, Müller, Cacapa, Berthod or Fabio Santos.

As for Auxerre, they still nurse European ambitions. In hosting the 2007 champions, Benoit Cheyrou and co will want to make the most of the fixture. Guided by Benoit Pedretti and motivated by Kaboul, whom the press has reported as being of interest to OL, the Auxerrois certainly have the means to trouble the 6-time French champions... Local ambitions aside, OL has to look to embellishing their new crown. As of, OL enters into a new phase in the Gérard Houllier's master plan. And in all sincerity, OL's fans want to see their team in the all-conquering form from the beginning of the season.