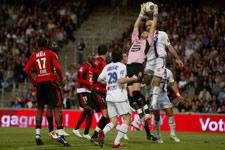 OL has already found itself in the situation of being virtual champions thanks to goal difference, but not really in the same conditions...
Following the 0-0 draw against Rennes, Lyon's supporters and players struggled to celebrate. And there was certainly more than one reason for that... The 'show' proposed by the two sides was not what was anticipated with just 13 shots at goal (6 free-kicks) in a match featuring a single shot on target (OL). This figure of 13 is the lowest number record in any of OL's 48 official matches so far this season. But with 3 shots (none on target), Rennes have 'done better' than St-Etienne at the Stade Gerland during their 2-1 loss: three shots, two on target, one goal.

3 times OL have taken less than ten shots at goal: v Lille (9 times), v Sochaux (7) and v Lorient (9). But on all three occasions, they scored at least one goal.

Yet despite the disappointing spectacle, OL still have an 18-point lead over second-placed Toulouse. Les Toulousains need to win all six of their remaining games and OL lose all six of their matches, to draw level on points. In that eventuality, both teams would have 70 points. Yet chances are the title would still go to Lyon on their strength of their goal difference of +32 compared to +5 for the TFC. So, champions or not?

Two reminders: In 2002-03, Sonny Anderson and Co. celebrated in style at Montpellier after a 1-1 draw, that gave them a three-point lead over Marseille with one game left. But OL had a +25 goal difference, compared to +6 for Marseille.

In 2003-04, Les Lyonnais went down 1-0 at the Parc des Princes in Week 37, but also celebrated on Parisian soil. Why? They had a three-point lead over PSG with one game left, but held a goal difference of +35 to +21.