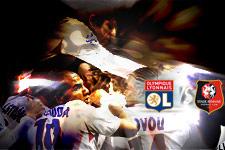 For the Lyonnais, the time is nigh to secure their 6th consecutive title after only 32 rounds! Even a draw against Rennes on Wednesday night will be enough to indelibly etch a new chapter in the history of OL…
"The faster we become champions the better…" These words have been uttered by many OL mouths in recent times. OL was like a train with no brakes for the first 5 months of the season but then dropped off. This didn't affect the season's outcome however, as OL's rivals couldn't manage to take advantage of the champions' slowing down. No matter. To become champions after just 32 rounds, whatever the adversity, is a stunning achievement.

Everyone is hoping to celebrate the title at Gerland. It will recall, to different degrees, the titles won when playing Lens and Ajaccio. This OL side, more successful away (37 points) than at home (32 points with a match in hand), will host a Rennes side defence-minded enough to be challenging OL for the title of best defence in L1 but weak enough in attack to be challenging Nancy and Nantes for the title of worst attack in L1.

The Red and Blacks will certainly want to put on a show, and will be hoping to produce the same fireworks they did in the corresponding fixture last season. A good result would hold them in good stead for a European place next season. Despite the absences of Bourillon, Borne, Faty, Melchiot and even of Mensah, manager Pierre Dreossi still has some potent weapons in his arsenal such as Utaka, Briand, Pouplin, Marveaux, Thomert, Edman, Didot, Cheyrou… So beware...

It would be really cool if, on its first match point, OL could secure this much anticipated 6th title. And if we had our druthers, they would do it with a lot of goals and attractive football from the beginning to the end of the match.

Some players will be adding a superb decoration to their collection, notably the foursome of Cacapa, Coupet, Juninho and Govou, who have all claimed the 5 preceding titles. Others will be winning their very first: Squillaci, Baros, Toulalan, Rémy, Bettiol, Fabio Santos, Källström, Alou Diarra. They won't all be in Wednesday's squad, but they have all made their contribution to the winning of this title and are deserving of the honour. And we mustn't forget Djila Diarra and John Carew, who have moved on to other scenarios. Come on OL, it's match point!