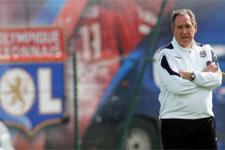 Tomorrow OL could be crowned French champions for the 6th consecutive season. "This record won't be broken in our lifetimes, unless we break it ourselves," claimed the OL manager before taking the squad for a training session.
The squad:
Coupet, Vercoutre - Abidal, Clerc, Cris, Réveillère, Squillaci, Berthod, Caçapa, Tiago, Toulalan, Källström, Juninho, Govou, Wiltord, Ben Arfa, Malouda, Baros.

Could this match be the season winner?
"For many reasons, we would love to celebrate the league win at Gerland. Firstly because it would be at home, which would be both a present and a reward for our fans. We won the title on the road last season, and it would be good to do it at home this year. Also, the sooner we win it, the more time we'll have to appreciate it. We can't wait to win it. Winning a 6th title is something dreams are made of. It's a record that won't be broken in our lifetimes, unless we break it ourselves. You know, since I arrived here, there have been some setbacks, like losing Essien and then Diarra… when you're used to eating caviar, you won't be content with foie gras afterwards. Finishing second would have been a failure."

Will one point be enough?
The sums don't really matter. Even if we take just one point, I'll celebrate. It would take an absolute catastrophe for another club to steal the title from us and I don't believe it's possible. We can relax, we're a long way in front! Even if we lose 4-1 to Rennes we will still be champions at the end of the season so there's nothing to get stressed about. We just need one more point from the next 7 matches but there is no way we will take Rennes lightly. They were the first team to beat us (on November 17, Rennes beat OL 1-0 in the Lyonnais' loss of the season after 14 consecutive wins in all competitions. Ed.)
For me, the title was won at Nancy on March 17, when Källström doubled our advantage with a powerful shot.

Do you now go in pursuit of records?
The record I'm interested in is the number of away wins rather than being champions 6 rounds from the end of the season. I assure you that from here to round 38, nothing will be left to chance. We only just missed out on this record last season. We have 3 away games left this season, and we need to win just one to break the record.