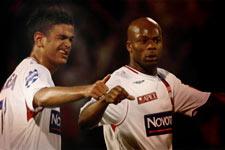 OL could be the first major European league club to be crowned champions this season. What's going on in the other European countries?
If OL beats Rennes, it will have 72 points from 32 matches. Second-placed Toulouse, on 52 points, will be 20 lengths behind. That's 2.23 points per match.

In Italy, Inter Milan has 81 points from 31 matches and is only inches away from the crown. AS Roma has 65 points.

In Germany, Schalke 04 has 59 points from 29 matches. Werder is 2nd with 57 points. That's 2.03 points per match.

In Spain, Barcelona has 59 points from 30 matches. Sevilla has 55 and Real Madrid has 54.

In England, Manchester United has 78 points. Chelsea is just behind them with 75 points, both from 32 matches.

In the Netherlands, for example, PSV has 72 points from 32 rounds. Alkmaar has 69 points, as does Ajax.