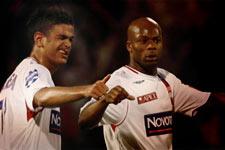 Hatem Ben Arfa scored his 4th professional goal against Sedan… 4 goals in 4 different competitions. Inches from the title, OL will have 8 new French Champions… and 4 players distinctively titled…
After his goal at Lille in the Coupe de la Ligue in 2003-2004 (penalty), his Trophée des Champions goal at Auxerre in 2004 (penalty), his Coupe de France goal against GF38 (2005-2006), Hatem scored his first league goal on Sunday night against Sedan. His first goal in 32 matches. The young left winger has already been champion of France on 2 occasions (21 matches).

Hatem is one of 54 players in OL's history to have been crowned French champion with the club. Toulalan, Squillaci, Baros, Fabio Santos, Bettiol, Remy, Källström and Alou Diarra will be the new names on the list, which will then total 62 players.

The player who has played the most games to obtain his titles? Grégory Coupet, who has played 199 matches at Gerland of a possible 217! His 200th match at home could also be the one in which he wins his 6th consecutive title…
The group of 4 (Coupet, Govou, Cacapa and Juninho) will augment their records with another trophy. They will join Bereta and Herbin, crowned 6 times, and will be only one title away from Jean-Michel Larqué and Hervé Révelli, the 2 leaders: 7 titres, and with one club (ASSE). Amoros, Battiston, Bosquier, Ddi Meco, Farison, Jacquet, Jonquet, Mitoraj, Polnt, Siatka and Tigana all have 5 titles, and will shortly be overtaken.

If OL secures the title against Rennes it will be the 3rd title won at home after those against Lens and Ajaccio.