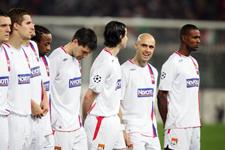 It's been more than month since OL played at home (Marseille) and more than 2 months since OL has won at home (Lorient). Despite the absence of three proven goal scorers, it would be nice to get back to winning ways… and to win the title at the same time…
Aside from wondering when OL will be crowned Champion of France for the sixth consecutive time, it will first of all be a pleasure to see this team play at home gain. Between an international break, 2 away games and the game against Bordeaux at the Stade de France, Juninho and co have been away from home for some time. This long absence should have given the turf some time to get back to A-1 condition. So OL is set to return to Gerland knowing that their past few performances there have been below par. Since the visit of Monaco at the end of December, Gérard Houllier's men have won 2 matches (Lorient in the league and Le Mans in the Coupe de la Ligue), drawn 4 times in the league (Monaco, Nice, Sochaux and Marseille) and lost twice (Bordeaux and AS Roma).

For the final steps towards the title, the Olympiens need to rediscover their winning ways. What better than a victory secured with a stylish spectacle? Even more so considering, aside from the lack of a home victory for 65 days as well as the massive disappointments in the Coupe de la Ligue and the Champions League, that unprecedented noises have been escaping from the OL back rooms, not to mention the disciplinary sanctions meted out to Ben Arfa, Diarra and Fred. In truth, how healthy is the OL squad? An emphatic and stylish win over Sedan would be, for the moment, a superb response.

President Urano's men are engaged in a tricky battle for top-flight survival against Valenciennes, PSG, Nancy, Nice, Troyes and Nantes. Every point secured is a veritable step towards beating the drop. Away from home, faced with the league's toughest team, any points gained would be manna from heaven. "We'll give everything we have. There is no question of our writing this game off as hopeless. I'm convinced we have the quality to counter the Lyonnais…" José Pasqualetti, manager of CSSA, has no intention of giving up after the loss to Toulouse. 17 points in the second half of the season; 17 points in 12 matches – hardly the king of form one would expect from a team to be relegated… and he knows it.

With the return of some long-term injury concerns (Sartre, Ouadah, Yahia, Noro), the club from the Ardennes has rediscovered some punch going forwards and, more importantly, some good results. "Now we have some certainty in our play, which makes us much more solid than in recent times…" Former Olympien Romain Sartre is confident about the end of the season while still wary of the difficulty of the task. "A result at Gerland would be an awesome bonus..."

Benzema, Fred and Baros will be absent, for a variety of reasons, and Gérard Houllier needs to find a replacement. Malouda and Wiltord have already played at centre forward this season. Ben Arfa could well earn a call-up on the flank. In the middle, Juninho will be present, with a surfeit of choices for his two partners. As for the defence, aside from the position of right back, the line-up seems to pick itself.

« It would be good to win at home; and the sooner we win this 6th title, the better it will be. It's our end-of-season priority. WE have our destiny in our hands and can win the title on Wednesday night. After that, we move onto our next priority: honouring this title on the field up until the end." In his press conference, Gérard Houllier also spoke of putting on a spectacle. All of which makes for a very appetising Sunday night.