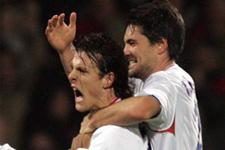 On Sunday, Sébastien Squillaci could become a champion of France for the first time in his career. The OL defender hopes this honour will be bestowed at home: "To celebrate that at Gerland, in front of our fans, would mean everything to us."
On Sunday, you're up against Sedan. What type of opposition are you expecting?
It'll be a tough match, they've made a great comeback. Even though they lost their last match, they're on a roll. We know their attacking talents and that they're scoring quite a few goals at the moment. So we know we'll have to bring our A-game to beat them.

This match could see you crowned champions of France.
I think it's unlikely it will happen this Sunday. In my opinion, it's more likely to happen on Wednesday, but it's true that we could become champions this weekend should our rivals slip up. But it'll only happen if we beat Sedan. It would be a huge party at Gerland. To celebrate that at Gerland, in front of our fans, would mean everything to us. We have two matches to do it. It's been a little while since we won at home. In front of our fans, we really hope to play well and take the 3 points.

On Saturday, will you be watching the results of your rivals?
We'll be watching them very closely for sure. We'll try to become champions as quickly as possible. We've worked really hard to get to this point where we have such a big lead. What we've done in five months is huge. We strung together some awesome performances, and it has to have been for something. We can't afford to drop the ball. In training, we do everything to make sure things will go well. There's a great atmosphere on the pitch and in the dressing room. We work well together.

You could become champions for the first time in your career. What does it feel like?
I came to OL for this: to win titles and to become champion of France. I'm in a good position to do so. It's a really big moment for me. I had some rough times at Monaco, finishing second and third. You have to make the most of these moments because becoming champions at this early stage doesn't happen often.

How do you see your performance this season?
I'm happy with it. I've played a lot of matches. At the beginning, I knew it would be tough because there was some stiff competition for my position. I'm happy because I've played with some great players, like Cris, Claudio (Caçapa) and Pat (Müller).That's allowed me to progress every day in training. I've felt really good this season.

If you had to pick a favourite match this season, which one would it be?
All the matches against our direct rivals. We won all these matches, and that's what put us in the position we're in now.

Did you watch the quarter finals of the Champions League?
Yes. Manchester was awesome and the result was exceptional. It's surprising, especially as Roma, like most Italian teams, doesn't usually concede many goals. Anything can happen in football. When you play a Manchester side with so many top individuals, they hurt you.

Were you surprised to see your former team-mate Patrice Evra score?
(Laughs) A bit. And he was playing at right back. It was a good shot. Like me, he doesn't score much. It's great when your friends score.