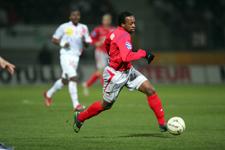 OL had a 15-point lead at the end of the first half of the season… it leads by 17 now with a game in hand going into round 32… Toulouse is the form team in the second half of the season, followed by Monaco and Auxerre…
The Lyonnais had 50 points at the break, that's 2.63 points per match! They were streets ahead of Lens on 35, Sochaux 33, ASSE 31, Lille 31, OM 30, Nancy 29, Bordeaux 29, Rennes 25, Toulouse 25, Le Mans 24, Lorient 24, Auxerre 23, Valenciennes 21, Monaco 20, PSG 20, Nantes 17, Troyes 17, Nice 16, Sedan 13.

After 12 matches in the second half of the season, OL is still well ahead with 66 points and have a match in hand, as do Rennes, Bordeaux and Nancy. The Olympiens lead by 17 points, possibly 20 should they beat Rennes in their postponed match.

In these 12 matches, Toulouse lead the race with 24 points ahead of Auxerre and Monaco on 20, Lorient 19, Rennes and Le Mans 18, Nice and Sedan 17, OL, Bordeaux and Valenciennes 16, Marseille 15, Lens, Sochaux, ASSE, PSG and Troyes 14, Lille and Nantes 12, Nancy 7.

Last season OL had 44 points at the break and second-placed Lens had 32. As at round 31, with a match in hand, the same as second-placed Bordeaux, OL had 68 points (57 for Bordeaux). The Lyonnais lost their delayed match 2-1 to Monaco. Counting this loss, the Olympiens took 24 points from the first 12 matches of the second half of the season (16,17 or 19 this season). Bordeaux was in front for the second half of the season with 25 points, counting its win in the postponed match. At the end of the second half of the season, OL was crowned French champion with 84 points, winners in both halves of the season: 44 points in the first half and 40 in the second. This was also the case in season 2004-05, when OL finished with 79 points: 39 n the first half and 40 in the second.

8 matches from the end of the season, no team has taken 6 points from 2 matches against OL. Last season, Lille achieved this exploit. Only Rennes still has a chance to do it this year, having beaten OL in the first half of the season. Since OL has been the French champion, Monaco in 2002-2003 and Guingamp in 2003-2004 have imitated Lille's 2005-06 achievement. No-one did it in 2001-2002 and 2004-2005. Rennes is set to visit the Stade Gerland on Wednesday April 18 …
At this stadium this season, TFC is the only team, over 2 matches, not to have lost against the quintuple French champions (4 points from a possible 6). Bordeaux and Troyes are next with 3 points taken. Nice, Sochaux, Marseille and Valenciennes took 1 point. Lille, St-Etienne, Lorient and Nancy all lost in both meetings.

Not counting Rennes, which we have already mentioned, OL is set to meet Lens, Auxerre, Nantes, Sedan, Le Mans and PSG… all of whom OL first time around this season. And also Monaco, which secured a draw in Lyon.

Some other figures: OL has kept 11 clean sheets this season. Last season the number was 17. In all competitions this season, OL has kept 17 clean sheets in 46 matches. Last season? 24 clean sheets from 54 matches. OL can do as well this season… or even better. OL has been kept scoreless on 5 occasions; the figure last season was 3. In all competitions, OL has been kept scoreless in 8 out of 46 matches this season, while last season the figure was 4.