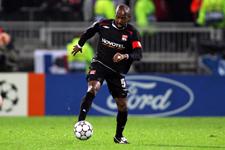 Claudio Cacapa has announced he will be leaving OL at the end of the season. One of the captains of the title-winning seasons since 2000-01 has played 168 in the OL colours to date…
Will he play again in the OL colours before following his career elsewhere? He has 8 rounds left… Claudio will leave his mark on OL both as a player and as a man.

Arriving in season 200-01 to replace Florent Laville, who had a knee injury, the Brazilian has to date played 168 matches, 155 as a starter. He has scored 7 goals /b> in the league and 1 in the Coupe de la Ligue.

2000-2001: 13 matches (12 starts) for 9 wins and 4 draws. 1 goal against Monaco in the league (2-1 victory) and the famous goal against Monaco in the Coupe de la Ligue final.

2001-2002: 18 matches (15 starts) for 9 wins, 3 draws and 6 losses.

2002-2003: 47 matches (47 starts) for 22 wins, 15 draws and 10 losses. 1 league goal against Sedan (6-1 win) and one against Le Havre (2-1 win).

2003-2004: 19 matches (11 starts) for 13 wins, 3 draws and 3 losses. 1 league goal against Montpellier (2-0 win).

2004-2005: 27 matches (26 starts) for 14 wins, 12 draws and 1 loss. 1 league goal against Ajaccio (2-1 win).

2005-2006: 36 matches (36 starts) for 27 wins, 6 draws and 3 losses. 1 league goal against Nancy (1-0 win), and in Nancy (2-0 win).

2006-2007: 8 matches (8 starts) for 6 wins and 2 draws.

100 wins, 45 draws and 23 losses. 5, and soon, 6 French championship titles, 4 Trophées des Champions, 1 Coupe de la Ligue.

He played on the whole in the centre of defence but could also slide into left or right back. He played in a system with 2 central defenders but also with 3. He was partnered by the likes of Edmilson, Müller, Cris, Squillaci, Abidal, Berthod, Laville, Monsoreau, Diatta.

Claudio had an injury-ravaged season 2001-2002. Each season he had niggling injuries (knee, knocks). Nobody will forget his shocking knee injury against Strasbourg in 2004-05. Explosive power, pace, fearlessness in challenges, a sense of anticipation, loyalty, charisma, tenacity… Claudio the player has obviously marked the history of OL. The man? Warm, joyful, generous, respectful, attentive, faithful, humble, deep, righteous… Claudio has a huge heart. His attitude is that of a great man, as he has shown in the last few weeks that have been so hard for him to get through. To say thanks to you seems so natural yet so insufficient in the face of everything you have brought to the club.