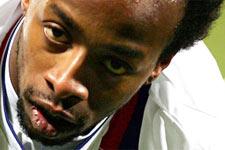 Sidney Govou opens up. A bit less than a week after the Lyonnais defeat to Bordeaux in the Coupe de la Ligue final, he recognises that "psychologically, it's tricky" and confirms that "to win a sixth consecutive French title is a real achievement".
Is it difficult to throw yourself back into the league after losing the final of the Coupe de la Ligue?
We can't lie. Psychologically, it's pretty tricky. But we've always had the league as our primary objective. We really want to finish well to emphasise the fact that we've had a really good season. The best thing to stop thinking about the Coupe de la Ligue is to play as soon as possible and, if possible, put in a really strong performance. We'll have to be professional, competitive and really hungry for the win. We have to let loose now. We are sure to be champions at the end of the season. We have to enjoy ourselves on the pitch and the motivation will come easily. We're competitors.

What kind of match are you anticipating at the Nungesser ?
For them, it'll be the match of the season. They want to save themselves from the drop as soon as possible. So it'll be a tough match that'll get quite physical. They'll be playing at 100%.

Isn't there a slight risk in being champion too early? No. The sooner we get there… I hope we'll be champions on three or four matches; that would emphasise the fact that we've had a good season.

Some observers have used the word 'failure' to describe OL's season. Do you share their opinion?
If we win a 6th consecutive championship, you can't consider that a failure. In light of what was expected of us in the Champions League, you can see a small failure but to be league champions six consecutive times is a real achievement.

What has changed to make the difference we can see between the OL of the first half of the year and the one we see playing now?
In the first half of the year, there wasn't much at stake in any of the games. We won many matches in a row while still not playing that well. That's the way football is. Sometimes you have to accept defeat. It just comes down to a lack of quality finishing. It counts for everything. Physically we're still a bit shy of the mark. We've also been a bit frustrated.

The World Cup made this a really long season. Is that one reason for your dip in form?
We didn't have much of a break. It's true you get the feeling that the seasons are getting linger and longer but we love it. We love playing a lot of matches. We have a squad of 26 players and the good fortune to be able to rotate it. Personally, playing a lot of matches doesn't bother me.

Before the end of the season you'll meet Valenciennes, Sedan, PSG and Nantes, three teams battling relegation. Does this decisive position oblige you to adopt a certain attitude?
No. We're professionals. Once we take the field, we're obliged to take it all the way. I don't really like entering into this debate. Last season, we were criticised because we lost certain matches. It disadvantaged certain teams. We were there to win. Our spirits were fine but you can't expect human beings to be flat-chat for nine months and then not relax a bit once the goal is achieved.