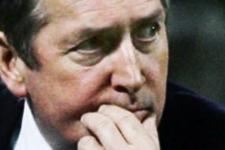 On Saturday at Valenciennes, Gérard Houllier will for the 100th time take his place on the OL bench. It will be his 52nd away game…
54 matches in 2005-06 and, after the Bordeaux match, 45 in 2006-07. That's Houllier's record before the trip to the North. 51 away games and 48 at home, 65 wins, 34 of which came on the road, 21 draws, 8 of which were away from home, and 13 losses, 4 of which came at Gerland. The story began with a superb demonstration at Auxerre in the Trophée des Champions (OL 4-1 Auxerre).

99 matches, including 67 in the league, 18 in the Champions League, 7 in the Coupe de France, 5 in the Coupe de la Ligue and 2 in the Trophée des Champions. 186 goals scored and 78 conceded.

34 different players used. Among these 34, 26 were used in 2005-06 and so fat in 2006-07, 27 have been fielded. 19 of the 26 players from 2005-06 have been used this season; 8 new players were added to the list in 2006-07. 3 players from the Youth Academy (Beynié, Bettiol and Rémy) were given their chance in the top flight during this time.

In terms of substitutions during matches, Gérard Houllier has substituted 3 players on 75 occasions (40 and 35), 2 players 20 times (14 and 6) and has changed just one player on 3 occasions (this season in Toulouse, Madrid and Rome). On one occasion he has made no changes (this season against Nancy in the Coupe de la Ligue). Not counting assist and goals scored when OL was in the lead, 12 times (in 12 of his 99 matches), players brought on by Houllier have scored when OL was either trailing or with the same score as the opponent, with a win or draw as a result.