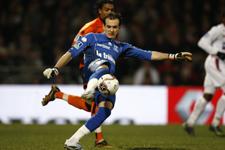 Rémy Riou and Nadir Belhadj both won with their respective clubs. A special mention for the Lorient keeper, who hasn't stopped stunning all and sundry in his first season in the top flight.
It's almost becoming a habit: Rémy Riou once again shone in the Lorient goal. Pulling out another top-drawer performance, the keeper loaned out from Olympique Lyonnais largely contributed to his team's win over OM (2-1).
When the 2 teams met in the first half of the season, in Riou's first L1 appearance, he had a huge match, and he did the same thing on Saturday, dashing the hopes of the Marseillais. Vigilant in front of Cissé (19') and brilliant against Malouda (86'), he could do nothing to stop the penalty from the French international.
In his 14th Ligue 1 start of the season, he was given a score of 8 out of 10 by sports daily L'Equipe.

In Nantes, Nadir Belhadj played the entire match on the left of midfield.
Thanks to their 1-0 win, Sedan are back in the fight to beat the drop. Tipped for relegation just one month ago, they now only trail PSG, now 17th and just out of the relegation zone, by one point
With his fine technical skills, the Algerian confirmed that he is one of the best defenders in L1. He has the second-best average of any defender (in terms of scored in L'Equipe) just behind Cris (6 as opposed to 6.2 for the Brazilian).