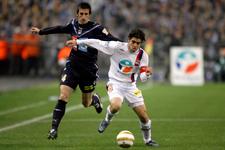 Against Bordeaux, OL went down to its 6th defeat of the season… the 7th goalless match of the season for Juninho and co…
6 losses for the quintuple champions of France in their 45 official games so far this season. 5 of those times they have been kept scoreless (in Rennes, in Toulouse, against Troyes, against Bordeaux and against Roma). On 2 other occasions OL has been kept scoreless: 0-0 against Monaco and against Roma.

It was the 9th goal that OL has conceded in the last 15 minutes of a match. These 9 goals correspond to 4 losses and 4 draws. 9 goals conceded between the 83rd minute and the final whistle.

At the kick-off in the Coupe de la Ligue final, there were 8 Lyonnais who had been on national team duty in the preceding days. In total, 11 of the 14-man group used by Gérard Houllier were in the same position. Only 2 Bordelais at kick-off hadn't trained as usual with their team in preparation for the match (Mavuba and Chamakh); 2 of the total of 13 players Ricardo used in the match.

Baros received a yellow card. His 3rd in 10 matches; he will be suspended for the visit of Rennes. The Czech, brought on for Fred, became the 21st player used by Gérard Houllier in this competition.

Malouda was fouled 8 times, more so than any other player in the match.