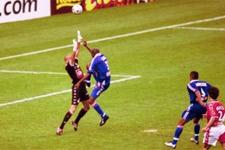 "It's my dearest memory at OL. I have the images from that match etched in my memory for ever." Of the 4 OL players remaining from the side that won the 2001 final of the Coupe de la Ligue, Claudio Caçapa is the one with the strongest memories of it.
"Personally, it was the beginning of something huge. I had been at Lyon for 3 months when I had the privilege of playing in the final and scoring a goal," notes the Brazilian.

Seasons and victories come and go, but some symbols endure. Just like at the beginning of his insolent domination of the French football scene, OL now has a chance to impose itself in a knockout competition and redress the imbalance in a club deprived of any cup success, in France or Europe, for the last 6 years, with the worst moment coming this winter against AS Roma in the last 16 of the Champions League. "We had hoped to go further in the European Cup," admits François Clerc. "We king of messed up our match against Roma, but now we have to turn the page and think of the end to our season, which could be exceptional ." After the immense disappointment accompanying their European exit, OL sees the Coupe de la Ligue as another opportunity to make history in season 2006-07: they want to achieve an historic and unprecedented league-cup double. . "The Coupe de la Ligue is no default objective," analyses Florent Malouda. "It has its own particular flavour, as it can validate our season." "The double would be a first, but we're not focusing on that," notes Alou Diarra. "If we go down in history, so much the better."

Even so, on Saturday, OL won't be playing double or nothing for its season. Should the Lyonnais show the exceptional character necessary to achieve such a feat, they will still be doing all they can to prevent any slip-up that could lead to failure. "To win the title, that's already extraordinary. Six in a row, no one's done that. Making light of that is an error no one should make," warns Alou Diarra, echoed by Toto Squillaci: "Six French championship titles, that's huge. Many teams would love to be in our situation and play the matches we?re going to play before the end of the season".

16 points in front with 9 matches left in the French league, the quintuple champions are in a good position to calmly prepare for and confidently approach their next big date. "When you're in a final, you have to be motivated and hoping to win. We've got just one match left to try to win a trophy and the title," says François Clerc. "This competition is different from the league," affirms Toto Squillaci before noting that "losing at Gerland in the league still sticks in my throat". On January 24 2007, the Bordelais won at Gerland, taking this season's head to head record to one apiece. To their credit, Ricardo's men have been in strong form since the break. Thanks to their good record since the league resumed in January and a poor showing by their direct rivals for a European spot, Les Girondins clawed their way back to the top 3 in the league and have left behind their old incarnation that OL beat 2-1 at the Chabon-Delmas at the beginning of the season.

[IMG41741#R]"we know them well. We've already played them twice this season," comments François Clerc. "This year, they had some trouble at the start of the season, but they're coming back quickly. They area solid team with some great individuals. A team that has always posed us problems and that will do so again on Saturday.."

Cup matches operate on this dangerous paradox: There's a fine line between triumph and disappointment. "This close to the trophy, to miss out would be too much to deal with," recognises Claudio Caçapa. "It would be very painful. I think we'll be up to the measure of this match. I don't want to think of defeat. We're positive and thinking only of lifting the cup. We really want to do something great together." The reward is well worth the effort. A vague sense of deja-vu? Not exactly. On Saturday night, the Lyonnais have a date with destiny. The years have hardly dulled the intensity of the memories of 2001. Gérard Houllier's players know what they need to do to revive these strong feelings and to make French football history.