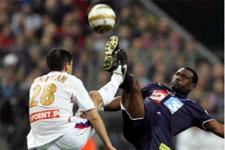 Take a look at all the statistics from the Coupe de la Ligue final… and from OL's campaign in that competition…
Lyon took 15 shots at Ramé's goal: 4 on target, 8 off target and 3 blocked. Juninho 5 shots, Govou 2, Malouda 2, Tiago 2, Fred 2, Abidal 2, Toulalan 1, Squillaci 1. 9 shots came from outside the penalty area and 6 from inside. 1 goal (left foot) came in open play. Bordeaux took 3 shots: 1 on target and 2 off target; all 3 came from inside the area.

Vercoutre made no decisive saves, a first for an OL keeper this season.

23 free kicks were awarded to OL and 25 to Le Mans; 5 corners to 2 and 2 off sides to 2.

Bordeaux took its first shot in the 60th minute of play. They got their first corner in the 80th! The Girondins, with no shots in the first half, are the second team OL has met this season to do so after Valenciennes at Gerland in the league. Only 3 shots? St-Etienne did the same at Gerland, also scoring one goal. It's the smallest total for an OL opponent this season.

b>Stats after 4 matches

73 shots for 6 goals: Källström 9 shots, Wiltord 7 shots (2 goals), Govou 9 shots (1 goal), Juninho 8, Malouda 7 shots (1 goal), Benzema 3, Diarra 3 (1 goal), Tiago 5, Cris 3, Toulalan 3, Fred 4, Squillaci 3, Réveillère 2, Abidal 1 (1 goal), Carew 1, Clerc 1, Ben Arfa 1. 4 goals scored with the right foot, 2 with the left; 4 goals down the middle and 2 from crosses. 24 shots on target, 34 off target and 15 blocked. 39 from outside the penalty area.

Vercoutre made 25 saves and 3 decisive saves.

OL's opposition had 26 shots: 12 on target, 5 blocked and 9 off target. 1 penalty and one goal after a cross.

21 players have been used by Gérard Houllier. Vercoutre, Cris and Govou have played the 3 matches in their entirety. Diarra, Clerc, Källström and Toulalan have figured in all 3 games.

9 yellow cards: Källström, Vercoutre, Tiago, Toulalan, Müller, Squillaci, Clerc, Baros, Fred.