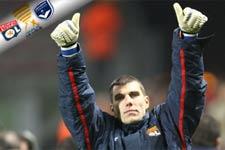 After the return of the internationals, the Lyon squad is now at full capacity to prepare for the Coupe de la Ligue final at the Stade de France on Saturday night. Three days out from this date with destiny, Rémy Vercoutre shares his thoughts.
The squad is finally all together. You've got your internationals back from the four corners of Europe.
Yes, it's good. Lunch was a lively occasion today. Everyone was talking about their results and in particular the goal Tiago scored. The manager spoke to us as well. We've got a little bit of time before the final and we'll focus on it this afternoon in training, which should give us the chance to get the good old OL spirits flying again.

How do you prepare in conditions like that?
It's not easy. Our preparation was a bit truncated, for sure. We trained as much as we usually do but did things differently, on smaller pitches in order to keep our rhythm. Now we'll try to make up for lost time but that's not easy.

How much importance do you place on the Coupe de la Ligue?
It's paramount. Getting knocked out of the Champions League and the Coupe de France still sticks in our craw. We want to obliterate our disappointments. It's a match we hold very close to our hearts, a match that can put the icing on the season. It'll be the big one, on neutral ground. We'll face a good Bordeaux team. The match will be an intense and awesome battle.

Which Bordeaux attacker are you most scared of?
They have some great attacking players, a top forward line with Darcheville, Micoud or even Cavenaghi. As for us, we're no slouches in that department either, we have some strong assets. So it's going to be a very open, interesting match.